This page covers the basics of the portable pokie phenomenon, from examples of downloadable games to recommendations on the best casinos that support mobile pokies. Unfortunately, reading the following information won't make you an instant winner at slots, but it will give you an idea of the best places to play. In the long term, that can wind up saving you money (which can then be used to pad your bankroll).
Mobile pokies are ideal for the busy gambling enthusiast, as they allow for a few quick games to be played anywhere, from the doctor's office to waiting in line at the store. Every available smartphone and tablet platform has free pokie games that can be downloaded, or you can choose to locate an online casino that supports mobile punting. In either case, you'll be perfectly positioned for a few minutes (or hours) or slot machine excitement.
For more information about playing pokies on your mobile, check out our helpful guides:
Advantages of playing mobile pokies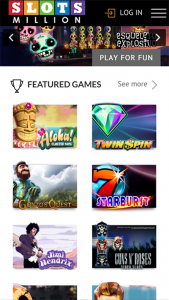 The mobile gaming craze continues to grow each year, especially as an increasing number of individuals purchase smartphones and tablet computers. If you're already part of this phenomenon, then you're likely aware of the many advantages but for those who've yet to commit, this list should provide a number of reasons why mobile gaming is the wave of the future.
Cool Extras – While a lot of accessories for smartphones and tablet computers are pretty standard, there are a number of cool options for the gamer who's willing to shell out a few more dollars. For example, one of my current favorites for the iPad is the Smart Cover. It comes with a durable shell to offer extra protection, but it also allows the device to be propped up in different positions for typing or watching movies. Removing the cover brings the iPad out of standby mode, which spares users the exhausting task of pressing a button.
Huge Selection – Given the rise of smartphone and tablet accessibility, a majority of all leading pokies sites now offer their services for both desktop and mobile platforms. This means your choices are no longer just limited to a couple of casinos offering downloadable apps, but instead you have the full pick of the litter. With so many pokies now optimised for mobile play, the choices are endless.
Convenience – You may love playing pokies at brick-and-mortar casinos, but there's no denying it can also be a real hassle. You have to drive or fly to the location, and things like taxis, parking, hotel rooms and meals can really eat into your budget. Online gaming is an improvement, but sometimes you don't feel like sitting in front of a PC for hours on end. When you want to be out in the world where the action is, but still want to have the option to get in a few spins of the hottest pokies, mobile pokies offer the best of both worlds. You have access to some of the best online slots, but you're no longer shackled to your home computer. No matter where you go, the spinning reels won't be more than a few seconds away.
Online casinos supporting mobile slots
If you want to play real-money mobile pokies, your best course of action is to find an online casino that supports mobile gaming. While this number used to be relatively small, the proliferation of tablets and smartphones has led to an increase in recent years. To be certain, all you need to do is visit the Internet casino of your choice using your mobile device to see if they offer what you're looking for.
For those punters who aren't sure where to start, check out our list of recommended mobile pokies sites in the table above. If you're reading this on your smartphone or tablet, you can tap these links directly to sign up for an account and claim an exclusive new player welcome bonus. Our recommended casinos are all fully licensed, regulated and offer a range of safe deposit options for real money players.
What to expect from mobile pokies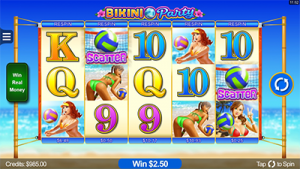 Given the recent advances in mobile gaming technology, more and more pokies are becoming optimised for play on the go. Mobile pokies maintain the same high-level of graphics, sounds and animation as their desktop counterparts, with games simply optimised for play on the smaller touch screen. If you're playing on a smartphone, you may have to rotate your mobile device horizontally for the game to load to its full capability, but other than that there is really no difference to the way mobile games are played. The touch-screen makes it incredibly easy to tap to select the size of your wager and then spin the wheels when you're ready.
The only real downside to playing mobile pokies is that the range of games isn't as large as what you will find on offer at the full desktop casino. As mobile gaming grows, that gap is closing, but if you're looking for the biggest range of online slot games you will still need to head to the desktop site.
Mobile pokies are growing in popularity and availability with each passing year, and one day they may surpass traditional online and land-based games as the primary option for gamers. Until then, there are a number of options to enjoy, whether you're looking for a real-money experience or just a few minutes of free fun.
Looking for a good mobile casino to enjoy pokies on the go? Sign up at Slots Million, our top rated casino site for real money pokies. New players can claim up to $100 in bonus money, plus 100 free spins on the slots, then choose from hundreds of portable pokies from the leading software developers to play on the go for the chance to win real cash.