Online keno follows the same basic principles as your favourite pub classic, with a couple of additional advantages such as the ability to play at your own pace. This article will highlight everything you need to know about how to play online keno and the best sites to play at, both for free and real money.

Best online casinos for real money keno
What is keno
Keno is a lottery-like game which is played in many pubs, clubs and casinos. The game uses a 'keno card' which features a grid with the numbers one through to 80.
Players select their desired amount of numbers on the card and, if the numbers are called out, the player wins, with the more numbers you select increasing your payout if you are successful.
You can also choose how much you wish to wager on each game, with your payout also depending on the amount of numbers drawn out which match up with your selections.
How to play internet keno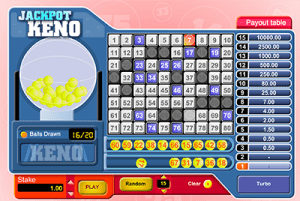 The rules for online keno are essentially the same as the land-based game.
The first thing you need to do is select a game from the range of options available through our recommended online casinos – with titles including Jackpot Keno, Keno Deluxe and Monkey Keno.
Once you have found a game you like, select the numbers you prefer using your computer mouse (or tap them if you are playing a touchscreen version on your mobile). For help with picking your lucky numbers, check out our winning numbers in keno guide.
Like the traditional game, you can select as many numbers as you like, generally between one and 15, from the casino board which goes up as high as 80.
Once you have selected your numbers you can then choose how much you would like to wager on the game.
Make sure you are sure you can afford to lose what you are betting, with most games unable to retract the stake once you have selected your bet amount and numbers.
Now the only thing left to do is play the game. Most games will have a button which says 'start' or 'play' which will randomly select 20 numbers.
If these numbers match up with your selections, prepare to win big, with smaller results also paid out for matching up some, but not all of, your chosen digits.
What is the best strategy for online keno?
There is no proven way to increase your odds of winning when playing Keno, as it's a game based entirely on luck, however we have devised a few tips to help you out when getting started:
Practice play for free prior to betting with real-money to familiarise yourself with the game.
Play with a casino and a game which has an attractive maximum payout.
Don't select too many numbers – while it increases your odds the chances of landing the win is decreased.
Play with a casino which offers a lucrative sign-up bonus.
Manage your bank roll smartly and always bet within your means.
Best online Keno games
There are plenty of keno games to try online, but we definitely have our favourites. If you are looking for an entertaining Keno variant, check out one of our selections below: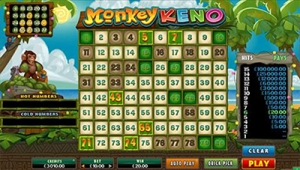 Monkey Keno: There is something fun and addictive about this game which features colourful graphics and vibrant audio features. It's not as structured as most internet Keno games, with numbers drawn out by an animated monkey. The monkey shakes a tree which drops coconuts on the board, highlighting the numbers which they drop on. The game is also available to a wide range of betting types, with wager amounts starting at 10c per game right through to $10.
Play'n Go Keno3: We recommend this game for mobile and tablet players, with the game easy to play on your iOS, Android, Windows or Blackberry device using your touchscreen controls. The game is traditional in its layout with a $5 betting limit, however it does offer a massive maximum jackpot of 10,000 times your stake if you can correctly select 10 numbers.
Keno Deluxe: This game is jam-packed with terrific 3D graphics, providing players with an enjoyable betting experience. What makes this game unique is that it does not instantly reveal all of the chosen numbers upon hitting 'play'. Instead, individual numbers fall down a chute one at a time, mimicking how they would be drawn using a traditional lottery machine, therefore adding a sense of nostalgia to the game.
Best casinos to play internet keno
There are plenty of internet sites where you can play Keno, however we want to ensure you are only gaming at the most reputable online casinos.
To help you out we have complied a list of the safest and most secure sites, all of which feature encryption software to keep your personal details protected at all times.
Also, you can play keno at our recommended casinos directly through the web browser on your computer and mobile, meaning you do not have to download anything in order to play for free or real-money.
Additionally, players can also take advantage of some lucrative sign-up deals on offer with our bookies, giving you extra cash to play with upon making your initial deposit.
Follow our links above to take advantage of these exclusive new player welcome bonuses and start your online keno experience today.