All competing online casinos vie for the most players, and one method of doing so is by offering strong rewards programs where players can earn points which are redeemable for cash, just by playing real money casino games. We explain more about casino loyalty reward programs and the best ones available online.

Online casinos with best loyalty programs
How loyalty rewards programs work
Generally, once you register an account with a reputable online casino, you will automatically be signed up to the loyalty rewards program, starting of at the lowest level loyalty tier, and working your way up the chart. The more games you play, the more points you earn, with access to bigger rewards the higher you climb up the loyalty ladder. Typically, players will not need to fulfil any wagering requirements before cashing in their profits made.
As an example of what you can expect to find when playing online, we've used the official Royal Vegas Casino Royalty Rewards Program available to all player whom register a Royal Vegas Casino account. The table below shows you benefits you receive within each loyalty level and how many points are required to reach these levels.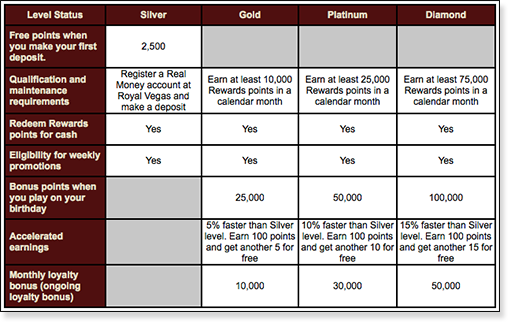 Other bonuses such as free spins and increased offers to enter in to free-roll and exclusive tournaments are provided as players climb up the ranks.
How do you accumulate loyalty points
Players are awarded points for the games they play, with different categories of games rewarding the player with different amounts of points. For example, online slot games tend to be the most lucrative in terms of acquiring points, while earning points on table games with low house edges like classic blackjack are slow to accumulate.
Below is the Royal Vegas Casino reward points structure for their online and mobile casino games:
Slots and unique games – Play 1 credit for 1 points
Table games not mentioned below – Play 5 credits for 1 points
Sic bo and roulette – Play 10 credits for 1 points
Video poker (except All Aces Video Poker) – Play 20 credits for 1 points
Craps, baccarat and blackjack (expect classic blackjack) – Play 20 credits for 1 points
Classic blackjack and All Aces Video Poker – Play 100 credits for 1 point
Note: all online casinos will hold different loyalty rewards program structures, so check out our endorsed sites to see which you like the look of, and sign up with a few to make the most of your online playing experience.
Once you reach a certain amount of points, you are able to redeem these points for genuine cash without fulfilling any turnover requirements. These points are hugely beneficial for high stakes players who gamble on a regular basis. As you climb the rankings, you gain exclusive VIP bonuses such as your own chat host, other cash prizes and rewards, tickets for cruise ship holidays and more.
Most rewarding online casinos
All of our top-rated online casino sites offer a loyalty reward program for registered players. Most follow a similar format, working in the same way as the Royal Vegas example used above, where players work their way up through different loyalty tiers while accumulating points for every real money bet placed. The rewards available vary between each casino, but typically consist of bonus credits, cash prizes, free spins or real world prizes for the VIP players.
For a full list of the online casinos with the most rewarding loyalty programs, refer to our casino table above. This table has been geo-targeted to recognise your location and only recommend casino sites that accept players from your country. To join the loyalty reward program at any of these trusted casino sites, sign up for an account using our links in the table above and not only will you automatically become part of the casinos loyalty program, you'll also earn some sweet bonus offers along the way.
Register an account with one of our top-rated casino sites and start enjoying the perks of gambling for real money on the Internet. All players can use their sign up details to play on desktop and mobile and earn points on either platform while playing real money games.