Want to start playing real money casino games online but not sure if you're old enough? Like land based casinos, online casinos have strict rules regarding the minimum gambling age of their patrons. We explain what the legal gambling ages are for players from different countries when playing online and how online vendors monitor these age requirements.

Legal and regulated online casino websites
What is the legal gambling age when playing online?
A major concern anti-online gambling advocates have is the Internet is uncharted territory where minors can be exposed to real money gambling without any form of supervision. However, this could not be further from the truth.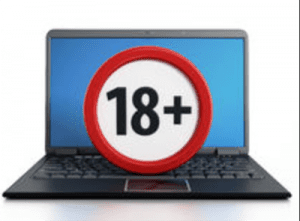 Playing at an online casino does not mean punters are above the law. Just like any land based casino, legitimate online casinos must adhere to the strict laws of the jurisdiction in which it is licensed. These laws always specify a minimum gambling age, which is typically 18 years or older, just like most countries around the world.
Defining the legal gambling age for online casinos is difficult as every jurisdiction and licensee is different. In addition, regardless of the minimum age specified by an online casino, players are still governed by the laws of the country they're a resident of. This means if a casino accepts players aged 18 years old, but the laws of your country specify you must be 21 years of age to gamble online, your local laws take precedence and a minimum age of 21 is required.
The legal gambling age relevant to an online casino can be found in the sites terms and conditions.
How is your age verified when playing at an online casino?
When signing up for a real money account at an online casino, you must enter your date of birth. By doing so, you warrant you at least meet the minimum age required by the casino, or any higher age required by the laws applying to you. It is an offence for any underage minor to participate in gambling for real money.
Online vendors police these rules by requiring players to provide proof of ID before any real money winnings can be claimed. You may be required to provide a copy of your passport, driver's license, credit card or proof of address, and the casino reserves the right to withhold any payments until the identity, age and place of residence of a player has been suitably verified.
Legal gambling age by country
The legal gambling age varies in every single country throughout the world, with each country carrying its own laws regarding the minimum age of gambling, voting and consumption of alcohol.
If you're not sure of the legal gambling age in your country, a quick Google search should be able to help you out, otherwise we've listed the legal gambling age of some of the countries where online gambling is most popular:
United States
Just to make things confusing, in the USA the legal gambling age varies from state to state. Most states require a minimum gambling age of 21, although some states like Minnesota and Wyoming have a legal age of just 18. Most casinos will require punters to be at least 21 to enter, while some states allow real money gambling on non-casino games like bingo and pari-mutuel betting at 18 years of age, even where the legal casino age is 18.
United Kingdom – In the UK, punters must be at least 18 years of age to participate in real money gambling involving casinos, sports betting, bingo, racing and online gambling. However, there is an exception to all National Lottery draws and scratch cards, which can be played from just 16 years of age.
Australia – While each Australian state is responsible for its own gambling legislation, the minimum gambling age throughout the country and for online gambling is 18 years.
New Zealand – The legal gambling ages vary between different games in New Zealand. While you must be at least 20 years old to gamble within a casino, you can gamble on sports, racing and instant win scratchies from the age of 18 onwards. Lottery draws like NZ Lotto and Daily Keno specify no minimum age requirement.

China – Gambling is technically illegal in China, but in practice Chinese residents can play state lotteries and gamble legally on the special administrative regions of Macau and Hong Kong. All people must be at least 21 years of age to enter casinos off of mainland China.

Japan – Gambling is currently illegal in Japan, although bills passed towards the end of 2016 are paving the way for change, with the casino industry in Japan set to be big business. The closest thing to casino gambling is pachinko, which requires patrons to be at least 18 years of age to play.

India – Gambling laws in India are complex, with different laws applicable to different states. As it stands, most forms of gambling in India are illegal except for horse racing, lottery and rummy, with land based casinos legally operating in Goa and Sikkim only. Many offshore online casinos are legally allowed to accept Indian players. At the casinos in states where gambling is legal, the minimum gambling age varies from 18 to 21.

Can underage players join an online casino?

All reputable online casinos that are licensed by trustworthy online gambling jurisdictions must follow strict laws regarding minimum age requirements. One grey area is technically (although not ethically) players of any age can play at an online casino, provided they're only playing for free. This is because a majority of browser-based online casinos don't require users to sign up for an account before accessing games in demo mode. Many anti-gambling advocates are concerned underage players having access to free games will groom them for real money gambling when they hit legal age.

Online casinos safeguard against underage players by ensuring only players of the legal age can play for real money. Players are required to provide proof of ID before any winnings can be withdrawn, submitting a copy of a driver's license or passport to the vendor just like you would have to show a security guard an ID when entering a land based casino.