3 Card Poker takes the basic premise of high-hand draw poker and transforms it into a fast-paced casino game where we play against the house. Here we cover rules, the run of play, and an introduction the different bets and bonuses available. We will also highlight our favourite casino sites for online three card poker, each of which offers real money and free play gaming.

Best online casinos
How to play Three Card Poker
The aim in 3 Card Poker is to form a stronger three-card hand than the dealer, who needs at least a Queen to qualify. Payouts can vary according to the specific player hand, whether or not the house qualified for the hand, and whether any side bets were played.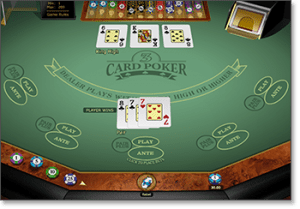 Each round of three card poker starts with the player making an ante bet. If you don't put up the ante, then you don't play the hand. In many versions the player can also choose to take the PairPlus side bet, which is a wager on whether or not you draw pairs or better. This is entirely separate from the ante and is not required to join the hand (we will talk more about side bets later on in the article).
Once all bets are placed, the player and the dealer receive three cards each from a standard deck of 52. The bettor's cards are dealt face up on the table, while the house's hand is laid face down. Here, the player has two options: fold, where you forfeit the hand and all bets laid; or raise, where you stay in the hand by placing an additional wager (called the "play" bet) of equal value to the ante.
After players have decided whether to raise or fold, the dealer will reveal their cards. In most games the house needs at least a Queen high in order to qualify – so if the dealer has only Jack high or lower, the casino cannot win even if the player's hand is of lesser value. If the croupier's hand is Queen high or better, however, then it comes to a showdown where highest ranking three-card poker hand takes the spoils.
If the dealer qualifies, there are three possible scenarios:
Player wins – both the ante and play bets are paid out at even money
Dealer wins – player loses both the ante and play bet
Tie – if dealer and player have the exact same hand, both the ante and play bets are pushed
When the house fails to qualify and the player wins, the ante wager wins at 1 to 1 but the play bet is pushed.
Hand Rankings
Because you only take three cards in this casino poker game, there are certain hands – such as four of a kind and full house – which cannot be achieved. You can, however, form flushes, three-card straights, and three of a kinds. Below is a list of all the possible hands in 3 card poker, ranked from strongest to weakest.
Straight flush – three consecutive cards of the same suit (e.g. Seven, Eight, Nine, all in Hearts)
Three of a kind – three cards of the exact same rank (e.g. all Kings)
Straight – three cards of consecutive rank in mixed suits (e.g. Ten of Clubs, Jack of Diamonds, Queen of Spades)
Flush – three cards of any rank in the same suit (e.g. Deuce of Spades, Six of Spades, Ace of Spades)
Pair – two cards of the exact same rank plus any other card (e.g. two Jacks and a Four)
High card – one card ranked Queen or higher
No hand – all cards are ranked Jack or lower and form none of the above combinations
While the dealer must have at least a Queen in order to reach the showdown, the player can win regardless of their own hand's value. For example: if we raise with 6 5 2 offsuit and the dealer shows J 9 6 offsuit, the house has failed to qualify – so we win despite the fact our hand is technically weaker.
Ante Bonus Payouts
If the player beats the dealer with a flush or lower, the win is paid at even money (1 to 1). But if the winning hand is a straight or better, then the player qualifies for an Ante Bonus. Specific payoffs for each hand can vary from table to table and casino to casino, but in all cases the straight flush offers the biggest bonus. The chart below shows bonus returns for Microgaming's Three Card Poker Gold Series, which can be played online for real cash at Royal Vegas Casino.
| Hand | Ante Bonus Payout |
| --- | --- |
| Straight flush | 5 to 1 |
| Three of a kind | 4 to 1 |
| Straight | 1 to 1 |
Each of these bonus wins is paid in addition to the standard collect, and in relation to the original ante bet. For example: if we start with a $5 ante, the dealer qualifies, and we win with a straight, we rake in $15 all up – $5 at even money for the win, $5 for the play bet, and an extra $5 for the 1:1 Ante Bonus on the run.
PairPlus Side Bet
As we touched on earlier in the "How to Play" section, most three card poker tables offer a side bet called PairPlus. This is an extra stake which has no connection to whether or not you lose the hand – so you can beat the dealer but lose the side bet, and vice versa.
The PairPlus bet pays out when you draw pairs or better on the initial deal. Here's how the payouts work in Casino-Mate.com's online 3-card poker game:
| Hand | PairPlus Payout |
| --- | --- |
| Straight flush | 40 to 1 |
| Three of a kind | 30 to 1 |
| Straight | 6 to 1 |
| Flush | 4 to 1 |
| Pair | 1 to 1 |
As you can see, the rewards for a successful PairPlus side wager are rather enticing – especially when you strike a three of a kind or straight flush. However, in the long run this bet is more likely to cost you cash, as it raises the house edge (that is, the casino's mathematical advantage) by more than 7 per cent.
Best online casinos for 3 Card Poker
While land-based casinos have been known to offer some version of the game (or relatives based on Texas hold'em), the easiest way to play three card poker is to visit a secure online casino. By playing over the Web from the comfort of home, you get the ultimate in convenience while eliminating the hassle and extra expense of gambling at a brick-and-mortar casino. You also have the option to try out games for free, as all the best Internet casinos allow you to play in practice mode as well as for real money.
For three card poker, we recommend gambling sites powered by Microgaming – the top developer of online casino software. Each of the trusted sites listed below carries Three Card Poker Gold, which boasts slick graphics, faultless gameplay, and a $200 bet limit to cater for all sorts of players. And they all support numerous secure deposit methods for multiple currencies (AUD, CAD, EUR, GBP, NZD, USD and more), including debit and credit cards (Visa, MasterCard), secure e-wallets (Neteller, Skrill Moneybookers), prepaid cash vouchers (Ukash, Paysafecard), and online bank transfers (POLi).