When it comes to choosing an online casino that has gained a reputable offshore license, sites certified by the Alderney Gambling Control Commission make a dependable choice. Read on to find out more about the ACGG and what it does to protect online players, and find out where to play for real money at the best casino sites licensed offshore in Alderney.

Best online casinos licensed by Alderney Gambling Control Commission
About the Alderney Gambling Control Commission

Alderney is part of the Channel Islands, which is an archipelago in the English Channel near the French coast of Normandy and is recognized as one of the best offshore finance centers in the world. It is part of the British Crown dependency of Guernsey, making it a self-governed area of the Crown which does not form part of the United Kingdom or the European Union. Thanks to its independency, Alderney has its own set of laws and regulations regarding online gambling, and has established itself as a leading offshore gambling jurisdiction that is well respected in the online casino market.
The Alderney Gambling Control Commission (ACGG) was established in May 2000. It is a non-political, independent commission that regulates the online gambling industry on behalf of the States of Alderney and is run by a Chairman and three members. The ACGG is responsible for issuing eGaming licenses to online vendors and overseeing the activity of its licensees to ensure operators are running above board and player safety is protected.
What does the ACGG do?
The Alderney Gambling Control Commission was created with the main objectives to provide a regulatory environment that meets world-class standards while protecting the reputation of Alderney and continuing to attract world-class operators. In order to preserve its reputation as a leading gambling jurisdiction, the commission liaises with other international regulatory bodies such as the British Gambling Commission, the Nevada Gaming Control Board and the New Jersey Division of Gaming Enforcement, while maintaining links with bodies such as Guernsey Financial Services Commission (GFSC), the Guernsey Financial Intelligence Services, the Guernsey Police, Credit Bureaux and Dixon Wilson (a UK accounting firm with particular expertise in the gambling sector).
In order for an online casino vendor to gain licensing from the Alderney Gambling Control Commission, it must:
Only use approved eGambling equipment
Only permit persons to play if they are registered
Not permit a person under the age of 18 years of age to play
Deal with customer funds only as set out in Regulations 228-234
Make available to the customer the rules pertaining to the game before a customer is permitted to play
Adhere to the limits set by the customer on his/her gambling activity
Licenses are then issued taking three major pieces of legislation into account, including the Alderney Gambling Law 1999, The Alderney eGambling Oridinance 2009 and The Alderney eGambling Regulations 2009.
How does the Alderney Gambling Control Commission protect players?
The mission for the ACGG is to safeguard and maintain the integrity of all electronic gambling activities, which is done by ensuring that:
All electronic gambling is conducted honestly and fairly and in compliance with good governance
The funding, management and operation of electronic gambling remains free from criminal influence
Electronic gambling is regulated and monitored so as to protect the interests of the young and the vulnerable
For players, this means the ACGG is working at all times to ensure online gambling activities are conducted fairly and honestly and are not causing harm to the public, individuals or families. Operators with Alderney licensing must offer harm minimization programs, including voluntary player exclusion services where a player can choose to limit their gambling activity in order to support safe gambling practices. The Commission regularly reviews the marketing and advertising policies of its licensees to ensure vendors are operating within the realms of responsible gambling services.
The Alderney Gambling Control Commission also works as a voice for players, taking all customer complaints seriously with the implementation of a formal complaints register.
Best Alderney certified casino sites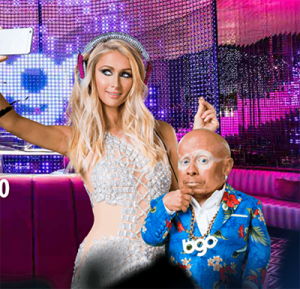 One of our favourite online casinos holding licensing from the Alderney Gambling Control Commission is BGO Casino. Not only is BGO a reputable and regulated casino site, it is also endorsed by such celebrities as Paris Hilton and Verne Troyer (Mini Me of Austin Powers fame) and is themed around the glitz and glam of Las Vegas for an all-round entertaining gaming experience. BGO offers hundreds of real money casino games from big name software providers like NetEnt and Playtech, while offering some fantastic welcome bonuses for new players. If you're looking for a respected and legitimate casino site to play games like the slots, blackjack, roulette and live dealer games, BGO gets our vote.
Keep in mind that players from different countries are not accepted by all online casinos due to regional laws regarding online gambling. If you are unable to sign up for an account with BGO Casino, try one of our other top-rated casino sites in the table at the top of the page which has been geo-targeted to suit your location.
Want to play at an online casino certified by the Alderney Gambling Control Commission? Sign up at BGO Casino where new players claim 20 free spins to use on the slots simply for registering for an account.