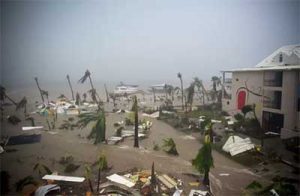 Land-based casinos and live streamed poker events have been cancelled as a result of Hurricane Irma.
She has already killed 10 people and has wiped out several Caribbean islands. Now she is headed for Florida, with poker rooms set to cancel events and casinos to cease operations.
Hurricane Irma is reportedly at the highest level on the hurricane scale. The Category 5 storm is recording 185mph (almost 300kmph) winds and is being labelled as one of the "the most intense storms on record".
It has ploughed through several Caribbean Islands including St. Maarten, where the World Series of Poker (WSOP) International Circuit stopover was going to be held.
The WSOP announced the event, which was planned for Sonesta Maho Beach Resort & Casino in St. Maarten from November 1 to 15, has been cancelled due to extensive damage sustained from the hurricane.
The venue has also cancelled all reservations up until the end of 2017 and released a statement on the matter.
"The damages to Sonesta Maho Beach Resort & Royal Casino are severe, as is widespread damage and destruction on our beloved island of Sint Maarten," the statement said.
"Severe damage has also occurred at Princess Juliana International Airport, and we do not have news as to when the airport will resume operations."

Refunds are available on any prepaid reservations for the poker event, according to TK Poker Events.
Meanwhile, a live stream poker event, known as "Streamboat2", has been cancelled. Run by film producer Bill Perkins, the show features top streamers on a yacht in the Caribbean streaming The World Championship of Online Poker (WCOOP).
Prominent poker player, Jaime Staples, made a vlog on their evacuation from the Caribbean via a private jet.
"We just want to get back to Streamboat2, get on the boat, start streaming WCOOP. But there's a storm in the way," he says in the video.
The next stream is "unknown due to Hurricane Irma", according to Mr Perkins' Twitch channel.
Meanwhile, Florida is gearing up for Hurricane Irma, which is predicted to hit between Saturday and Sunday.
The World Poker Tour Deepstacks event was already underway at the Seminole Casino Hotel Immokalee, with the event commencing last week. But the casino has taken to its website to state that the event, which was scheduled to run until September 10, has been cancelled "due to the potential impact of Hurricane Irma on South Florida."
Meanwhile, the Seminole Hard Hotel & Casino Hollywood announced on its website that poker tournaments would be closing as of 11 am Thursday and cash games would be stopped from 6 pm Friday.
Hialeah Park Casino, near Miami, is closing from 3 am Friday, until at least Sunday, depending on the storm impact and damage. It's Monday night tournament has also been cancelled.
Miami's Magic City Casino is closing from 8 pm Friday, with plans to reopen Monday, while the Palm Beach Kennel Club in West Palm Beach will stop poker games from Friday evening until further notice.
Floridians have been told to prepare for the worst. If you're based in Florida, be prepared and stay safe. No poker game or casino title is worth gambling your life.
Leave a Reply
You must be logged in to post a comment.