Skill-based casino games is a term you probably are hearing a lot more often in the world of both online and land-based casino gambling. While classic casino games like blackjack and poker have always been classified under the umbrella term of 'skill-based', many of our favourite casino pastimes like the slots, baccarat or roulette have always involved more chance and luck than tangible ability to win. So if the term has already existed for some time, why is it suddenly blowing up now?
Digital game developer companies are making big waves in the online casino world to change things up for the younger generations, introducing new games which ditch the traditional card-game classics and slots in favour of cutting-edge software which resembles something more akin to a video game we play on our mobile phones or home consoles. Meanwhile, several market leaders in the land-based casino field are rapidly introducing several new innovative skill-based gaming machines into live venues which resemble first-person shooters, sports simulators and casual puzzle games while still maintaining the RTP systems of traditional slots – only that payout is instead entirely based on player skill.
Intrigued yet? Read on.
What are skill-based casino games?
Skill-based casino games are those which require some form of decision-making from the player that affects the outcome of the game, as well as development of strategy to ultimately improve one's chances of winning. The term has loosely existed long before the current wave of industry innovators began using it to market their new and less traditional gaming innovations; whenever people compare classic card games like blackjack and poker to the likes of Big Wheel, Casino War, roulette and the slots, it's always to point out the former group of games do require more involved decision-making and tactics than the latter. While very true, the newer wave of less traditional skill-based games are on another playing field entirely, and aim for a completely different demographic.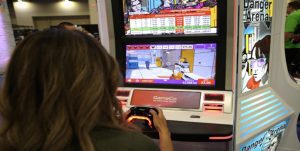 When first announced by several online gaming software developers and gaming machine manufacturers, skill-based casino games were intended to target the millennial generation, who have not taken to traditional slot machines or casino table games. The one-armed bandits and repetitive nature of spinning the reels have not proven to have lasting appeal, and efforts to create more cinematic animations and flashy graphics have not resulted in significant up-take with younger players.
What millennials have been invested in, however, are video games and 'social' gaming. These are games they play on home video game consoles such as the Nintendo Switch, PlayStation 4 and Xbox One. The total value of the traditional video game market in the U.S. is $18.4 billion, which doesn't even account for the massive amount of money being made in mobile casino gaming apps, of which there is a thriving market of game apps for Android, iPhone, iPad, Samsung, Windows Phone and more – catering to all ages and demographics, but mostly drawing in the under 30s crowd.
Many of these skill-based video games and social mobiles titles involve gameplay which requires knowledge, dexterity and decision-making to succeed. These games have been monetised via alternative payment models, such as free-to-play entry points and microtransactions and while these payment models aren't feasible in a casino setting, the overall high level of engagement of millennials is something many skill-based casino game makers are trying to replicate in their products.
Many amateur and professional online casino businesses have attempted to replicate the apps gaming success by offering casino game products on the mobile platform not too dissimilar to traditional slots and table games – just with fancier graphics. While some have found profit, it's clear slapping on some fancier graphics and sounds aren't enough to continue engaging with the younger audience. This is where specialised skill-based casino game manufacturers (land-based) and online casino game specialists (computer and mobile) come in, which we will discuss in the section below.
Who makes skill-based casino games?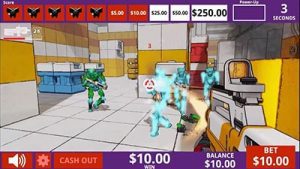 GameCo is one of the most prominent pioneers in the skill-based casino games space and the main market leader in the United States. They develop special arcade console setups called Video Gambling Machines (VGM) and boast being the first manufacturer to have their skill-based game products in actual casino floors. As described on GameCo's official website, GameCo believes their "proprietary arcade-style cabinets balances player skill with patented game design, while maintaining the same return to players as traditional slot machines"; essentially, they still incorporate elements of luck required to win, but allow players to determine the final payout and lower the overall house edge through sheer skill and knowledge rather than relying entirely on chance. GameCo's games – which vary in genre from first-person shooters, racing games, puzzle-solvers, racing, fighting, MOBA and sports titles – aim to provide players with the excitement and satisfaction that traditional video games grant their players when they are able to dictate their victory on the basis of strategy and knowledge.
Danger Arena, one of GameCo's leading VGMs is a first-person shooter game controlled via a traditional gamepad attached to the proprietary arcade cabinet of the VGM and the built-in player console inside it. It was the company's first VGM which reached many land-based casinos and expo game shows, and aims to "balance player skill with patented game design, while maintaining the same return to player as traditional slot machines". Players play as one of two characters, placing bets on whether they can conquer Danger Arena and eliminate 6 or more Danger Bots – if players eliminate 10 bots, they are awarded the top payout. While still a work-in-progress, it's clear they've taken heavy inspiration from traditional first-person shooter video games, which are a huge market in the United States and around the world.
Scientific Games Corp is another casino equipment maker (also doubling as a lottery services provider) who have jumped aboard the skill-based gaming machine trend. They recently announced the launch of a Space Invaders-themed slot machine with skill-based gameplay, though it is based on a pre-existing popular classic arcade video game rather than an original property made by the company. It will debut in New Jersey and is just another step forward for what could prove to be the future of casino games in America and elsewhere in the world.
Casinos with skill-based casino games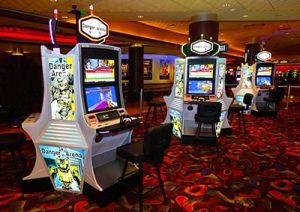 Several world-class casino venues such as those on the famous Strip in Las Vegas, Nevada reported a 15% slump in slot revenue since 2007, compared to just 6% slump for table games. As a result, in the last few years several brick and mortar operators such as Caesars Entertainment have dedicated entire gaming floors for the sole purpose of testing and trailing out how well skill-based casino games do in their premises. GameCo's Danger Arena was the first official game to launch in an American land-based casino, hitting Atlantic City in October 2016.
While GameCo's VGMs did not reportedly garner the public reception expected and Atlantic City eventually withdrew the machines, skill-based casino games proved enough of a hit that Caesars Entertainment introduced Gamblit Gaming's Cannonbeard's Treasure and Gamblit Poker at Planet Hollywood the following year in March 2017. GameCo was also recently given the go to operate its VGMs in Macau by the end of 2017, updating their games to Macau 1.1 electronic gaming machine standards, before distributing their platform elsewhere in Asia.