Caribbean Stud is available at just about every real money casino on the Web. Digital versions have proved extremely popular with gamblers all over the world, due in no small part to the game's signature progressive jackpot feature. As a table game with straightforward rules and big rewards, Caribbean Stud poker seems like a perfect candidate for live dealer gambling.

Best live dealer sites with Caribbean Stud
How to Play Caribbean Stud Poker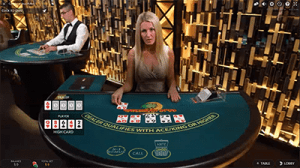 The aim of online Caribbean poker is to draw a stronger five-card hand than the dealer. Each round starts with an ante bet, which must be made in order to join the game. Once the antes are up, each player is dealt five cards face down. The dealer also takes five cards, the last of which is turned face up.
Now, players can choose whether to raise (make an additional bet) or fold (forfeit the hand and the ante bet). The croupier will then reveal their down cards. The house must have at least an Ace + King or better to qualify; otherwise, any live players win 1 to 1 on the ante bet while the raise bet pushes. If the dealer qualifies and the player wins, the ante bet pays 1 to 1 while the raise pays according to a paychart like this:
Royal flush – 200 to 1
Straight flush – 50 to 1
Four of a kind – 20 to 1
Full house – 7 to 1
Flush – 5 to 1
Straight – 4 to 1
Three of a kind – 3 to 1
Two pair – 2 to 1
Pair or less – 1 to 1
At the start of the hand, you can also choose to play for the progressive jackpot. Every unit wagered on this side bet goes into the progressive kitty, which continues to grow until the jackpot is won. Here's a typical paychart for the Caribbean Stud poker jackpot bonus:
Royal flush – Jackpot
Straight flush – 2500 to 1
Four of a kind – 250 to 1
Full house – 100 to 1
Flush – 25 to 1
Straight – 10 to 1
Three of a kind – 5 to 1
Where can I play Live Dealer Caribbean Stud online?
The team at OnlineCasinoWebsites.com have scoured the Net for live Caribbean Stud poker games and found the best version is powered by premium live dealer gaming software studio Evolution Gaming. Check out any of the sites listed in the table at the top of this page (geo-targeted to your location to only display online casino sites accepting players from your country) to jump into Evo Gaming's Live Caribbean Stud Poker.