As one of the most cherished and popular casino games of all time, blackjack has been seamlessly adapted to suit the world of online gambling. The leading online casinos now feature a list of blackjack varieties you'd never be able to find in one land-based location, making the Internet a great place to try new blackjack titles and hone your skills on the beloved game of 21. We explain how and where to play blackjack for real money at the best online casinos on the Web.

Best online casinos for real money blackjack
An easy game to learn, blackjack also holds one of the lowest house edges out of all casino games, especially if you find a variant with particularly favourable rules (easier to do so online than offline). The house edge can be lowered to less than one per cent if basic strategy is used correctly.
Online blackjack casinos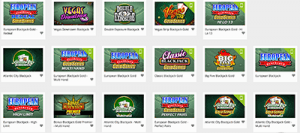 For a list of the best blackjack sites that accept players from your country, refer to the casino table above. This table has been geo-targeted to recognise your location and only recommend blackjack sites that accept players from your region. For an extra layer of security when playing blackjack online or to get around any region-restrictions, consider using a trusted VPN (virtual private network) service.
Each of our endorsed blackjack sites are licensed and regulated by the world's leading gambling jurisdictions. To play 21 for real money, simply register an account free of charge, deposit cash via one of several secure banking methods, claim your exclusive welcome bonus and start exploring the wonderful world of online blackjack. Blackjack games can be sampled for free at our recommended casinos in practice mode, so you trial games first before risking any of your own money.
Our recommended blackjack sites are also compatible with mobile, allowing instant-play access directly over your mobile Web browser to play real money blackjack from any smartphone or tablet. You can log in via your Smart TV, too, using the same account details across all platforms. Here is a full list of the blackjack games available online at our endorsed gambling sites.
The aim of 21
Contrary to what many players believe, the aim of blackjack is to beat the dealer without being dealt a card value that totals more than 21, as opposed to simply getting as close to 21 as possible. Being dealt a low ranking hand and waiting for the dealer to bust is often a perfectly acceptable strategy.
Blackjack card values
All numbered cards from 2-10 are worth their face value.
Jacks, Queens and Kings are all worth 10 points.
An Ace can be worth either one point or 11 points, whichever suits the players best.
Online blackjack games and rules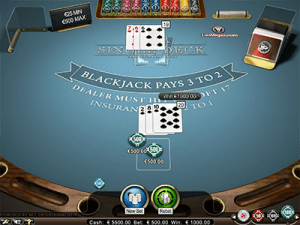 The online version of blackjack is no different to land based games, apart from the fact cards are dealt by random number generated (RNG) software as opposed to a real human croupier. However, if you wish to stick with traditional dealers, our recommended online casinos also host brilliant live dealer blackjack games, where we can watch a live stream video of croupiers dealing blackjack games, while we place our wagers from our computer screens. Live dealer games are conducted from regulated casino studios and are overseen by adjudicators whom are on standby if there are any hiccups.
The rules of online blackjack vary depending on which game variant you are playing, but gameplay typically always rolls out the same way. After you have used the betting chips at the bottom of the game screen to place your standard bets and any side wagers, press 'play' or 'deal' and the game can begin.
The basic rules of American and European blackjack are explained below for newbies.
American blackjack rules
All players are dealt a face-up card (from right to left).
The dealer then draws a face-down card.
Players are then dealt a second face-up card in the same order.
The dealer draws a second face-down card which remains face down until players have completed their turns.
The dealer flips over his/her first-dealt card and places the face-down card (the hole card) under the visible up-card.
The dealer will securely check for blackjack if he or she is showing either an Ace or 10-valued card. If the dealer confirms a blackjack, he or she will flip over the hole-card and all bets are lost before play can continue. This rule does in fact aid the player as it would stop him or her from possibly laying out more money (doubles and/or splits) without knowing the dealer already has blackjack.
European
All players are dealt a face-up card (from right to left).
The dealer then draws a face-up card.
Players are then dealt a second face-up card in the same order.
In American blackjack variants, all games are played with a dealer hole card, while in European blackjack games, dealers only receive one card, and receive their second card once all players have completed their turns.
We advise playing American variants of blackjack (unavailable within land-based casinos in Australia, New Zealand or Europe, which is why online is superior), as it is more flexible in terms of allowing players to double down on any total, to re-split already split hands and surrender at any-time. It also holds roughly a 0.08% lower house edge than European blackjack.
Blackjack actions
Beginning from right to left, a player can complete one of the following actions:
Hit – take another card.
Stand – take no more cards and remain on the hand's current total.
Double – place a bet equal to your original wager in return for one more card only.
Split – place a bet equal to your original wager and split your hand into two separate hands.
Surrender – some games allow the player to surrender their hand, forfeiting half their bet and having the other half returned.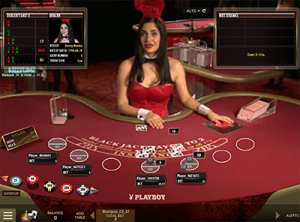 You can hit on any total, although strategy says to always stand if you have a hard 17 or a hard total greater than 17. You can stand on any total, however you should never stand on a total of 11 or less, as it would be impossible to bust taking another card. Some games will allow you to double (also known as double down) at any time, while other games may only allow you to double down with a two-card total of 9, 10 or 11. You can only split when your first two cards are of the same value. Some games will allow you to split unlike 10-valued cards, such as a King and a Jack, however strategy suggests never to split a pair of 10s. Games will play a certain limit on how many times you can split you hand if you continue to be dealt cards of the same rank. Surrendering is typically only offered in American variants of 21.
Online blackjack payouts
Across all versions of 21, beating the dealer with a hand other than blackjack will award the player a payout of 1:1 (double your total wager). The payout for beating the dealer with a blackjack hand (a 10/J/Q/K and an Ace) can differ between variations, but the most common and best payout for doing so is 3:2. You should avoid all games which offer payouts for blackjack of any other kind, such as 6:5 or 7:5. Dealer and player hands worth the same value will push (tie – money is returned to player with no profit).
Note: If a player hand and a dealer hand tie on blackjack or an other combination of cards worth a total of 21, almost all games will enforce a push. However, there are some European variants (not many) which will pay out the player immediately if he/she hits blackjack (at 3:2) or a total of 21 (at 1:1) before having their own hand resulted. However, while this rule may seem player friendly, it is set off by other non-player friendly rules.
Critical online blackjack advice
When it comes to optimal blackjack strategy, there is a set of very specific instructions you should follow when playing this great game. However, for beginners, it is important to understand these basic rules before delving in to the more involved strategies:
Player hands totalling 12 – 16 (without an Ace, or with an Ace which must be valued at one to void busting) are regarded as hard/stiff hands: you can bust by taking another card.
If the dealer's face-up card is a Two through to a Six, that is also regarded as a hard/stiff hand.
Player hands totalling 17 or more (without an Ace, besides a blackjack) are regarded as pat hands – always stand with a pat hand ("standing pat").
If the dealer's face-up card is a Seven through to an Ace, it is also considered a pat hand.
If you have a hard/stiff hand and the dealer has a hard/stiff hand, stand.
If you have a hard/stiff hand and the dealer has a pat hand, hit.
Insurance
Never take insurance when playing blackjack, it's as simple as that. Insurance is offered when the dealer is showing an Ace, and before he or she has checked for blackjack (American) or drawn a second card (European). The offer of insurance is exactly as it sounds – protect your hand against a possible dealer blackjack. While it has no effect on our original hand, it is simply a wager on whether the dealer will show/draw blackjack. The player is required to put up half of his or her original wager to cover insurance ($20 initial bet, $10 insurance bet).
If the dealer has blackjack, insurance pays out at 2:1. Say we take insurance – we win our insurance bet (profit $20 and get back a total of $30), but most likely lose our original bet (unless we draw to 21), and have now broken even. If the dealer does not have blackjack, we lose the insurance and play out our hand as normal.
If we win our hand, we have won less than what we would have won if we hadn't taken insurance, while if we lose our hand, we lose even more money. The dealer is likely to have blackjack less than one-third of the time, so in the long run, insurance is not a smart move.
Pair of Aces
Always split a pair of Aces. While you are required to double your wager, this allows you to play out your two new separate hands with a far greater chance of drawing to 21 (or as close to 21 as possible). Two Aces played as one hand leaves you with a total of either two or 12, while splitting the pair gives you a total of on or 11 on each hand.
Note: some games will only allow one card to be dealt to each Ace after they have been split (regardless if you wish to hit or not). Try to avoid these variants as the house edge increases significantly. Many games will also not regard a blackjack on split Aces as a traditional blackjack, and instead payout your hand at 1:1 if you win, rather than the regular 3:2. It's hard to find versions of 21 where this isn't the case. Regardless of this rule, always split Aces to maximise your winning chances.
Safe blackjack deposits and withdrawals
Our chosen online blackjack sites each employ the highest standards of security, using Secure Socket Layer digital encryption technology for all financial transactions to safeguard player details. The payment options available vary between each casino and within each country, with common deposit and withdrawal methods including:
Credit and debit cards such as Visa and MasterCard.
E-wallets like Neteller and Skrill.
Pre-paid vouchers and cards such as Ukash and Entropay.
Instant online bank transfers using secure banking mediums like Citadel Direct and Trustly.
Most deposits methods fund your casino account instantly, while withdrawals can take up to 72 hours to be processed.
Keen to give online blackjack a go? Refer to our casino table at the top of this page for a list of the best blackjack sites accepting players from your country. This table has been geo-targeted to recognise your location and only recommend safe casino sites that cater to your region. Sign up using our links to claim some exclusive new player welcome bonuses.