Each time you play blackjack, you want to be assured you are giving yourself the best possible chance of success. The following page details the most important blackjack strategies to aid in maximising winning hands and profits, both online and offline. You can then use your new found blackjack strategies at our top-rated online casinos below, which offer the chance to play for free in practice mode so you can hone your skills with no risk to your wallet.

Best casino sites for online blackjack
Online blackjack variations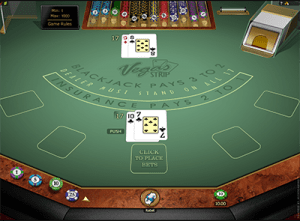 When playing blackjack online, it is important to register with an online casino that takes pride in its blackjack titles, offering a large variety of different game variants, so the player has a range of titles to choose from. Unlike land-based casinos, Internet gambling sites host a significantly greater catalogue of games, including various blackjack games, many of which you'd be unable to find within a brick and mortar establishment.
The secure online gambling sites we endorse offer great new player bonuses and customer support, and provide detailed instructions to all blackjack titles, along with the opportunity to practice titles for free before playing with real money. Take a read of the huge list of available online blackjack titles. The games hold lower house edge odds and provide greater betting flexibility than land-based casino blackjack games, due to minimal overhead costs involved in establishing an Internet gambling platform.
Bonuses and loyalty programs will help you earn more for your bankroll at the online casinos. You should read about any offers the casino has and take advantage of all of the promotions that you can. This money will come in handy once you clear the wagering requirements and help you to have more to play with.
Is American or European blackjack better for the player?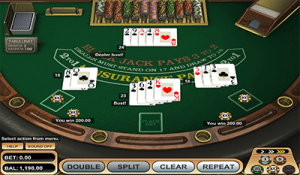 In American blackjack games, where the dealer receives a hole card and peeks for blackjack if he or she is showing a 10-valued card or and Ace, it is not possible for the player to lose more than his or her original wager – if the dealer has blackjack, any splits or doubles are not a factor because all original bets would be immediately collected and new hand are dealt (expect if someone else has been dealt blackjack, which in most cases would be a tie/push).
In European blackjack variations, the no-hole-card is employed (only one face up card is dealt to the dealer, and another card only after all players have completed their turns). This means players do stand to lose their additional split and double wagers to a dealer blackjack, which subsequently increases the house edge by approximately 0.11 per cent. However, if the game employs the 'Original Bets Only' (OBO) rule, where only original wager lose to a dealer blackjack and any split and double bets are returned to the player, this eliminates the increased house edge and makes the game comparably to hole-card games.
Make sure you are aware of the rules of the variant you are playing – you'll have more wiggle room and far greater variety playing online. In addition to whether the dealer checks for blackjack or not, the following rules need always to be taken in to consideration when playing 21:
Number of decks in play – games with one/two decks allow players to split and double with more freedom (thus lowering the casino edge).
Double after split (DAS) – basic strategy suggests to split more often if the variant of blackjack being played allows for doubles after splitting, especially on a pair of Fours which is not advisable if the DAS rule is not in play.
What the dealer does on a soft 17: Try stick to games where the dealer stands on all totals of 17; the dealer taking a hit on a soft 17 ups the house edge by 0.22 per cent and demands the player make a strategic shift.
Surrender – Early surrender is hardly seen today, where a play can opt to take back half his or her wager before the dealer checks for blackjack, however if this rule does happen to be in place, players should consider doing so with very week hands of 15 and 16. Late surrender is far more common, where the player can choose to take back half his or her bet and should only be considered with ugly hands against a strong dealer up-card, such as 16 against an Ace.
In Australia, Crown Casino hosts a game known as Blackjack Plus, where the dealer pushes with all players if he or she hits 22. This is a no-hole-card game, and players are paid out if they hit blackjack (3:2) or any combination of cards totalling 21 (1:1), and are also paid out instantly, regardless of what the dealer has, if they draw five cards (1:1), but these rules are not strong enough to eliminate what the massive house edge that results from the dealer pushing on 22. If you happen to be playing at Crown, avoid this game like the plague.
Don't take insurance
Insuring your original bet against a dealer blackjack is never a good idea. In almost all blackjack games, the player will be offered to take insurance if the dealer shows an Ace. This simply means if you decide to take the insurance wager (must put up half of your original wager), you will lose your original bet if the dealer draws blackjack but have your insurance payout at 2 to 1. However, the dealer will hit blackjack less than one-third of the time when an Ace is showing, so it's not a smart economic move.
Some variants of 21 will also ask players, if they have been dealt blackjack, if he or she wishes to take insurance on their blackjack, when the dealer shows an Ace – this means sacrificing a 3:2 payout, which might turn in to a push if the dealer draws blackjack, for an instantaneous 1:1 payout, regardless of what the dealer ends up with. Again, don't take the insurance.
Always split Aces
A pair of Aces gives a player a starting hand value of two or a soft 12 – both poor starting hands. Splitting the Aces in to two separate hands gives the player two opportunities to draw to 21, and because this makes the player's hand far more favourable, casinos often bring in external rules to limit what the player can do once he or she has split the Aces, such as:
Allowing only one card to be drawn to each Ace.
Not considering a 10-valued card drawn to a split Ace a natural blackjack (thus no bonus 3:2 payout).
Disallowing a player to re-split if deal another Ace.
Prohibiting a player from doubling after splitting Aces.
While the above rules are common (most games have some combination of the above laws), a player should still always split Aces because of how much it boosts a player's chances of beating the dealer.
Mathematical workings suggest on average, you will win 53 per cent of the time and lose 47 per cent of the time if you hit a soft 12 (two Aces). If you split your Aces, and are given even just one extra card (not allowed to draw additional cards), this is identical to doubling down on a hand total of 11, and you get to do it twice. On average, you will win 60 per cent of the time when splitting Aces. The statistics speak for themselves.
Don't be superstitious
Don't buy in to any superstitions such as 'it matters where you sit on the blackjack table' or 'your actions hinder other players' chances of winning'. Such superstitions are exactly that; superstitions. They aren't true and if you simply stick with basic blackjack strategy and take in to account all the above factors, you'll be in good stead to come out in the green. No matter what blackjack strategy you are using, it is important to remember that there is a certain amount of luck required to win blackjack, so it will help to accept the fact that the results are not completely within your control.
Find appropriate table limits and set your own limits
Find a table that suits your betting limit and bankroll, and always set yourself a loss limit (and win limit). It's never a good idea to chase your loses, so if you do happen to hit that limit, get up and walk away, and try again another day.
Put these blackjack strategies to the test by playing for free in practice mode at any of the top-rated casino sites recommended in our table above. Playing for free allows you to test different strategies and try different bet sizes before committing to risk any of your own money. If you decide to play for real money, sign up using our links in the table above to get access to some exclusive welcome bonuses along the way.