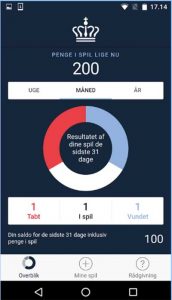 The Danish Gambling Authority (DGA) has announced that it has updated its problem gambling app available for smartphones and tablets.
The app, known as MitSpil, was launched in November last year to help at-risk players control addictive gambling behaviour. It had more of an informative feel about it but the new updates have transformed the app into an analytical tool.
The app update helps players keep track of how long they have been gambling for and allows players to enter their winnings, and losses, in an easy way. The app then provides an in-depth analysis of user's gambling habits, including whether the ratio of losing to winning is out of proportion, and notifies them if their behaviour is consistent with problem gambling patterns.
The new update alerts users if they've taken too long to enter information, and generates reports on their gambling habits.
The first version of the app acted as an informative guide, providing players with guides about problem gambling and how to avoid getting carried away.
The interactive update has come about after a problem gambling clinic in Denmark released the findings of a new mobile gambling study, which found a significant increase in problem gambling figures since 2012.
A consultant for the clinic, Dr. Neil Smith, said, smartphones and tablets have played a part in these numbers.
"The use of mobile phones as platforms to gamble on over the preceding five years is not surprising given their ubiquity in society," he said.
Additionally, the National Centre for Social Research surveyed Danish casino players between the ages of 18 and 74 in 2016 and found that around 10,000 suffered from problem gambling.
The study also found male players among the age of 18 and 39 faced the highest risk of developing a gambling addiction.
MitSpil is designed to target at-risk groups, including younger players who aren't educated about the risks and don't know how to gamble responsibly. The DGA has made the app incredibly user-friendly, and it is designed to act as an effortless tracker, similarly to the Health app on your Apple Watch.
Danish online casino operators can also benefit from MitSpil and other gambling technologies new to the market, as a problem gambler is not a valuable customer.
You can download the app from your device's app store and start tracking today. Need an online casino site to try the app out with? We have got you covered.
Online casinos in Denmark
If you're looking for an online casino which accepts Danish players, we recommend Leo Vegas, which offers a huge catalogue of entertaining slots and skill-based table games, and has been dubbed the best site to use on smartphones and tablets.
So you can switch between Leo Vegas and the MitSpil app and reap the benefits of responsible mobile gambling.
There are plenty of online casinos available to players from United States, but we recommend checking out Slots.lv for secure games and local deposit and withdrawal methods.
Leave a Reply
You must be logged in to post a comment.