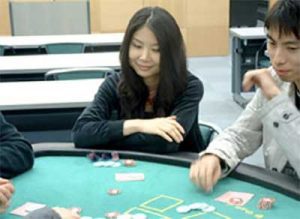 Japanese casinos may not offer poker and sports betting, according to new reports.
The Mainichi news outlet revealed that the Expert Committee, which is in charge of creating a regulatory framework for the new Integrated Resorts (IRs), has recommended casinos offer chance games only.
These include the traditional casino games such as blackjack, roulette, baccarat and other luck-based games. Sports betting and horse racing wagering would be banned, as would other skill-based gambling games.
Whether poker is a skill-based game or not is up to the legislators to determine.
The Expert Committee met on July 31 to discuss the recommendations, which are reportedly quite stringent when it comes to Japanese locals.
They will meet again on Thursday to prepare for a meeting in the coming months where they will present their recommendations.
But a debate regarding poker has reportedly ensued.
The Mainichi added that some members of the Expert Committee believe poker should be omitted from the prohibition of skill-based games. They understand that poker attracts huge numbers, including tourists, to venues.
World Series of Poker bracelet winner, Naoya Kihara, agreed with the idea of people going to casinos specifically for poker.
"If an international competition were held at an IR in Japan, it would attract a large number of people from the world through a synergic effect with tourism," he said.

The World Poker Tour recently announced it would be adding a Japanese stopover to its international poker schedule.
The event will take place in Tokyo in November, although a venue has not been determined.
Japan passed a bill to legalise IRs, which include casinos, last December. But gambling remains illegal until the country's lawmakers establish a regulatory framework.
As a result, players of the WPT Japanese event will receive a prize package. Winners will earn free entry to the Season XVII WPT Main Tour event in Beijing and free entry to a WPT event of their choice in the Asia-Pacific region.
The WPT Japan turnout could also impact guidelines regarding poker at casinos.
Head of the Japan Casino School, Masayoshi Oiwane, supports the addition of poker at casinos. Although the school does not teach trainees about poker, he dismissed the suggestion that the game is harder to manage than other casino games.
"Poker allows gamblers to feel a sense of superiority by defeating others in a game of wits," he said.
"Poker is popular worldwide and can attract numerous customers.
"In such games, it's clear who the winner or loser is and it's easy to control the flow of money."
A special government committee will commence its tour of Japan on Thursday to explain IRs to the general public and obtain feedback. It will travel to Tokyo, Osaka, Hiroshima, Fukuoka, Sendai, Sapporo, Nagoya, Toyama, and Takamatsu and conclude the tour on August 29.
The panel is hoping to reduce concerns about the issues surrounding casinos including problem gambling, money laundering and criminal activities.
The public consultation is due to poor public support, with a survey revealing 44 percent of Japanese citizens oppose legalising casinos.
Leave a Reply
You must be logged in to post a comment.