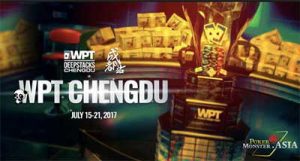 The World Poker Tour (WPT) has been forced to cancel its Chengdu leg after failing to gain approval from the city's officials.
The WPT stop was meant to run from July 15 to July 21 in the Chinese city of Chengdu but it has since been called off.
WPT was recently purchased by the Hong Kong-listed corporation, OurGame. The company released a statement last Friday announcing the first ever tournament in the city had been "urgently called off".
According to the statement, the company failed to register with all relevant departments before the event commenced.
Ourgame has cancelled the Chengdu leg of the tour just months after the WPT held a tournament in Beijing. The tour has also stopped over in Sanya every year since 2013.

The cancellation was a surprise to not only avid poker players but dealers and staff at the Longmont Chengdu Hotel too.
The Chengdu stop was only announced in May 2017 with a capped limit of 500 players and a guaranteed prize pool of RMB 5 million.
Online satellites were also held so poker players could qualify for the event.
The WPT Chengdu stop had been incorporated into the Ourgame Chess and Poker Carnival Chengdu.
Ourgame said it would reschedule its "World Mahjong Sports Games Straight Match" and "CCG World Card Game League Match" to July 19, as well as the "WPT China Team Summer League Finals" to July 22. The events are to take place in Beijing.
The decision to cancel comes two years after the Asia Pacific Poker Tour (APPT) stopped over in Nanjing. Police raided the event and arrested the tournament's local organisers for "opening a gambling house and submitting false application materials" to the Jiangsu Provincial Chess Sports Association.
A number of local PokerStars staff – the international sponsor – were detained too but released shortly after.
The APPT has not returned to Mainland China since but continues to hold annual events in Macau, Australia, the Philippines, and Korea.
WSOP Main Event final table to be determined in coming days
The 2017 World Series of Poker Main Event at the Rio All-Suites Hotel and Casino in Las Vegas attracted 7221 players this year. Players have been eliminated one by one, with the final table inching closer.
Day 7 kicked off on Monday, July 17, with just 27 players and at the time of writing they are down to 17 in the $10,000 Buy-In No-Limit Hold-Em Main Event.
The latest to be eliminated is Michael Krasienko. He lost to Jack Sinclair who called to create the largest pot of the tournament thus far. Krasienko pocketed $340,000 for 17th place.
Play will continue until the final nine is determined. The final table will then battle it out on Thursday until a winner is crowned.
Leave a Reply
You must be logged in to post a comment.