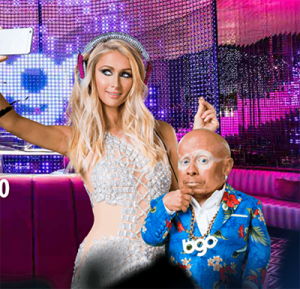 Hollywood actor and comedian Verne Troyer is officially returning to play The Boss, the colourful and fictional character headlining all major ad campaigns for online casino BGO.com.
In a recent video interview with Casinopedia, Troyer confirmed his involvement and revealed the next BGO.com advert would officially debut on September 1.
"It always seems to get bigger and better every single-time," Troyer said of his involvement with the filming process of his latest ad.
The 48-year old actor and comedian has fronted BGO.com's television advertisements and marketing campaigns as The Boss since 2014, alongside other famous figures like Dan Bilzerian and Paris Hilton. His continued involvement in BGO Casino's colourful and humorous television adverts has contributed to their massive brand power around the world.

The Boss is the fictional owner of BGO Casino who challenges famous celebrities to 'Beat The Boss' from the comfort of his opulent casino mansion, sporting a notorious temper whenever he is beaten at his own game.
The first 30-second television ad premiered in February 2014, followed by a series of five-second adverts sponsored by Sky Sports News.
Troyer's fame as The Boss took off after his collaboration with Dan Bilzerian in the 'Meet the High Holler' video premiering later that year, culminating in a video featuring Paris Hilton the following year that went viral on social media.
BGO have also employed the actor in their latest social media campaign on Twitter during Wimbledon.
Day 5 – Look who we have here! Today's #tennis #legend is #RafaelNedal Who's keeping score? #wimbledon pic.twitter.com/DBYRWbb4Tj

— bgo (@bgo_official) July 7, 2017
Troyer is most famous for his iconic role as Mini-Me in Austin Powers film franchise, along with several television appearances as himself.
For more information on BGO.com including their latest sign-up bonuses, read our official BGO.com review here.
Leave a Reply
You must be logged in to post a comment.