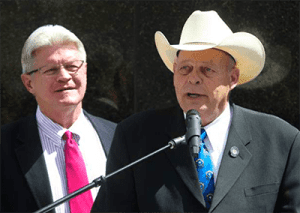 If you are old enough to vote, you are old enough to gamble – according to one Nevada legislator.
What started out as a joke transformed into a new legislative priority for Assemblyman, Jim Wheeler, on the first day of the state's new legislative session.
Wheeler asked Nevada Gaming Control Board Chairman A.G. Burnett what the legal age to gamble in Nevada was on Monday, scoring a few chuckles from fellow legislators.
While Wheeler quickly added he was joking, it was then introduced as a potential measure for lawmakers, who will now have to answer the age limit question.
The notion to change the age limit from 21 years old to 18 years old was proposed in Wheeler's Assembly Bill No. 86. It was one of 200 pieces of legislation presented to the Nevada State Assembly in Carson City but it was the most controversial. It now has to fight its way to the top in order to become a reality.
"Personally, I think if you're old enough to go serve our country in foreign lands, you're old enough to come to Las Vegas or Reno or Lake Tahoe and have a good time," Wheeler told local television broadcaster KTVN-TV in July, at the time he was submitting the required draft request for the bill.
He also addressed the age limit for alcohol, with the bill stating those under 21 were still unable to drink in a Nevada casino.
"So, they would have to check identifications but they're probably doing that anyway to make sure they're of gambling age," he said to KTVN-TV.
This isn't the first time the idea to lower the gambling age has been introduced. A group of state's gaming regulators in 2008 raised the notion after it was mentioned at a Las Vegas law conference. While it was considered by the then chairman of the Nevada Gaming Control Board, Dennis Neilander, it was shot down after just a few weeks by legislators.
Advocates for the age limit reduction argued similar points to Wheeler's, so it's not clear how far this bill will get.
Nevada is one of America's most liberal states when it comes to gambling – the state allows gambling online and off. But illegal offshore gambling still occurs as you must bet at Nevada online sites – Nevada punters can find better odds and better payout rates at other offshore sites.
It's not clear if this bill will only allow 18 year olds to gamble at brick and mortar casinos, or online too.
Leave a Reply
You must be logged in to post a comment.