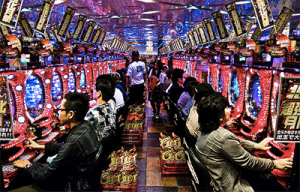 The pachinko industry is reportedly facing reform as Japanese lawmakers prepare to open land-based casinos in the country.
Ever since the casino ban was lifted last December concerns surrounding the impacts of gambling have been raised by the public.
Many have voiced that the pachinko industry is already a source of problem gambling, despite the arcade style games where you can win prizes being classified as amusements games.
Now the 23.4 trillion-yen industry is being targeted in a bid to tackle gambling addiction before the land-based casinos are opened.
Now that gambling is being taken seriously, the pachinko industry, which contributes up to four per cent of Japan's gross domestic product, and the impacts it has on Japan is up for review.
Bloomberg news site has reportedly obtained government documents which will restrict pachinko players if relatives have indicated a problem. Visitation limitations will also be considered.
These regulations are also being suggested for the casino industry and are modelled off the Singapore gambling regulations where locals also have to pay an entry fee into casinos.
If Japan considers a fee for land-based casinos, it will have to apply it to pachinko venues too since it will drive more gamblers there.
Additionally, Japan is reportedly looking at regulating the pachinko industry by creating an independent body to oversee operators and enforce them to implement harm minimisation strategies.
Gambling wasn't outlawed completely in the country prior to the legalisation of casino – horse racing, boating and other racing events are eligible to wagered on – but problem gambling concerns have not yet been addressed.
Regulations are also allegedly being considered for venues which offer these services, including banning credit card machines which allow a line of credit from race tracks.
The government will reportedly consider the regulations by the end of the week.
Associate professor in the department of international tourism at Toyko University, Kazuaki Sasaki, said gambling addiction was never addressed in the country since pachinko is not classed as a gambling game.
He said because players win prizes, and then exchange them for cash at counters outside the pachinko parlours, operators have long been evading the law.
"Companies in any sector prefer to regulate themselves — being bound by legislation is bad for business," Sasaki said.
"Although the increase in costs will hurt the industry in the short term, they're necessary to ensure its long-term survival."
Japan legislators have until the end of the year to outline how the gambling industry, which appears to include pachinko machines, will be regulated. International operators are quite eager, with Vegas, Macau and Singapore companies expressing their interest in a casino resort in the next gambling powerhouse.
Leave a Reply
You must be logged in to post a comment.