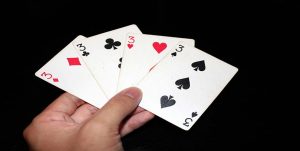 Several gaming companies based in Delhi and Hyderabad have approached India's High Court to challenge the recent decision to ban games of skill in the state of Telangana.
Head Infotech India and Junglee Games India, along with several smaller groups from Hyderabad argued the long-standing previous Supreme Court judgement that "a game of skill does not fall under the definition of gambling" unless stakes are involved should still hold in regards to the game of rummy.
They argue rummy is entirely skill-based and does not involve elements of chance, which in India makes a game classified as a gambling activity.
The petitions are being headed by acting CJ Ramesh Ranganathan and Justice T Rajani, the latter of which whom directed the state not to take any action against the companies so long as the petitioners block all players trying to access their online games from Telangana.

"Soon after the formation of Telangana, the CM had ordered police to crack down on clubs and other places which encourage gambling. But the government received complaints that people are now indulging in online gambling. We want to eliminate gambling in all forms. So the Gaming Act would be amended, banning online gambling. The cyber police will track online gambling and act against violators," Deputy Chief Minister Kadiam Srihari said in a press statement.
Earlier this week, Telangana became the third state in India to issue ordinance specifically against online gambling after the Telangana Cabinet officially banned all games of skill and amended the Telangana State Gaming (Amendment) Ordinance 2017 – which includes online poker as well as rummy.
The legislative amendments included new wording, specifically "online gaming with stakes" to the definition of gaming, and a statement that "any act of risking money or otherwise on the result of an unknown event including on a game of skill falls within the definition of betting and wagering."
"Rummy is not a skill game as it partly involves skill and partly luck or chance. Any person who opens, keeps, operates, uses or permits to be used any common gaming house or online gaming, or conducts or assists in conducting the business of any common gaming house or advances or furnishes money for gaming wherein, shall be punishable," the new Telangana ordinance states.
Keep OnlineCasinoWebsites bookmarked for continuing updates.
Leave a Reply
You must be logged in to post a comment.