Social media casinos are big business, but conglomerates like Facebook exploit loopholes that keep players hooked on their casino games with no real rewards. We explain why players should avoid social media casino games at all costs.

Best real money online casino websites
What is a social media casino?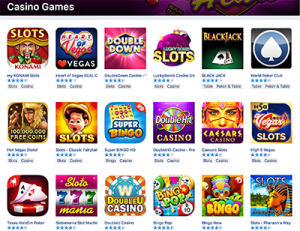 A social media casino is a gaming app available via a social media platform like Facebook. You can find these apps linked directly through the Facebook Games platform, or through the app store on your smartphone or tablet. These gaming apps offer casino games just like the ones you would find at an online casino, with a range of blackjack, roulette, poker and slot games available, but due to legal reasons they cannot be played for the chance to win real money.
If you're familiar with popular social media games like Candy Crush or Words With Friends, social media casino games work in exactly the same way. The base game is free to access, but additional features or extra play time will cost you money. These games also reach out to your friends over your social media network and constantly ask you to invite other friends to play, while publishing your high scores and game statistics.
Industry reports show the global social media gambling market far exceeds that of online casino gambling in terms of the number of players. But whether it is actually safe and worth playing is a whole other story.
Reasons to stay away from social media casinos
On the surface, there is nothing wrong with players enjoying social media casino games – they can provide a fun way to pass the time when you're sitting on the bus or taking a break at work. But look a little closer and you will see that for some players, social media casino games are rife with potential problems. Here are some of the reasons why you should avoid social media casinos. You may also want to consider the difference between online casinos and land based casinos.
1. Social casino games are money traps
As it is illegal for real money bets to take place over social media, these social casino games instead offer micro-transactions, where instead of wagering real money, players can purchase extra credits, in-game currency, gifts, achievements or boosters. Unlike online casinos, players can't win this money back, so essentially you're just paying for the privilege of accessing paid-only features of the game. These games can be so addictive, especially when your friends are playing and you want to be involved, so even if you intend to avoid the paid features, you can find yourself dishing out your credit card details before you know it.
2. Social casino games are unregulated
When you play at an online casino, games are regulated by esteemed gambling authorities like the United Kingdom Gambling Commission to ensure fairness and player safety. The RNG (random number generator) software is tested and audited by independent third parties to ensure all results are unbiased and genuinely random. Gaming regulators also ensure the operator is running in line with gambling laws and has measures in place to protect young and vulnerable players. Most social media casino games aren't regulated, so they don't benefit from this same level of regulation or player protection.
3. No protection for the young and vulnerable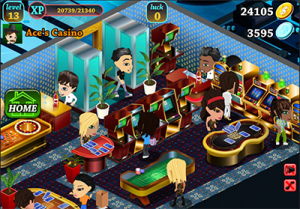 Unlike online casinos where users must be at least 18 years of age to play, there are no age restrictions on social media casino games. Social casino games are often designed with bright, colourful cartoon graphics to appeal to younger players, so many of the slots and card games on Facebook are frequented by teenagers. Some researchers have suggested these paid social media games are grooming children and teenagers to become the next generation of real money gamblers, as they are already familiar with the games and have a taste for the thrill.
Online casinos have measures in place to exclude young and vulnerable players. You must be at least 18 years of age to play for real money, with proof of identification required. There are also responsible gambling practices in place, where players have the option of self-exclusion or setting time and money limits. As social media casino games do not classify themselves as gambling, they do not offer these necessary levels of protection.
4. Free online casino alternatives
If playing casino games like slots, blackjack and roulette on Facebook has become a regular pastime for you, you may want to consider moving onto playing at a real, legitimate online casino that benefits from the features discussed above. Just like on Facebook, you can play at an online casino for free in practice mode, so you never have to hand over any of your own money if you don't want to. The benefit this has over Facebook casino games is you're not constantly posting your game history for your entire social media following to see, and your friends will no longer get those annoying requests inviting them to join you on the blackjack tables.
Unlike Facebook casino apps which will request you hand over money in exchange for credits, achievements or more play time, online casino vendors allow you to play for free for as long as you like, whenever you like. Even if your free credits run out, you can simply close and re-open your Web browser and start again. There's no pressure to sign up, so you can try as many online casino games as you like to see what's available and hone your skills.
Leading software developers like Microgaming, BetSoft, NetEnt, Play'n Go, Quickspin and NextGen Gaming have created hundreds of entertaining, engaging online slots and table games which are way superior to the casino games available via social media, and are all available download-free directly over your Web browser.
5. How to play real money casino games away from social media
If you've been handing money over to Facebook when playing social media casino games, it's time to realise your money is not working for you in any way – you are essentially paying for the privilege of accessing these games. That same money you're spending to buy more credits or unlock achievements is the same money you could be using at a real online casino for the chance to win some money back. Online casinos cater to all bankrolls, so even the most recreational player can give real money play a go. Spins on the slot machines can start from as little as just one cent, and table games can be played from around $1.00.
We are not encouraging real money play if this is not something you already participate in, but for players who are already throwing money at Facebook, we definitely recommend you avoid paid social media casino games and head to a legitimate online casino instead.
Are you a real social media junkie? You can also check out some of the leading casino brands on Twitter.
For a full list of the top-rated online casinos that accept players from your country, refer to the casino tables across our site. These tables have been geo-targeted to recognise your location and only recommend safe casino sites that welcome players from your area.