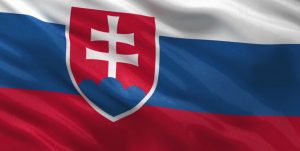 Last month Slovakia made it clear illegal online gambling would not be tolerated, releasing the first round of gambling sites to be blacklisted from players in the country. Slovakian news outlet Zive.sk has now confirmed a further six names have been added to the list, bringing the number of blacklisted betting sites up to 16.
The original blacklisted betting sites included William Hill, Bet365, 888Holdings, Bet-at-Home, BWin, 1xBet and EatSleepBet.com, but it is not yet clear which operators have made it to the second round of blacklisting. The number of blacklisted sites is expected to grow as the Slovakian government continues its crack down on unlicensed casino and betting sites.
Last year, Slovakia introduced new laws to regulate the online gambling industry. The only sites legally allowed to offer online gambling services in the country are sports betting sites with licensing from the Slovakian government, and the TIPOS national lottery brand which has a monopoly on all online poker and casino services.
Sports betting sites with a license to operate in Slovakia are required to pay 27 per cent tax on all gross gaming revenue made by players from Slovakia, which has been a deterrent for some vendors from seeking a license to operate in the country.
Despite being blacklisted, the gambling sites have yet to be officially blocked by Slovakian internet service providers, who are waiting on a judicial order before proceeding. Internet providers said they have no problems with proceeding with the blocks, but are holding off for the court orders as the Slovakian government has offered no funding for the extra work and responsibility required to implement the blocks. Some internet providers say they have not yet been advised of the legal requirements surrounding gambling sites.
Online gambling operators have 10 days to take down their websites before a court order is issued to the internet service providers. Betting sites that fail to comply will be issued with a fine of up to €500,000. Several online gambling sites have voluntarily exited the Slovakian market to avoid the blacklist and any subsequent penalties.
Slovakia is following the lead of other European countries like Poland and the Czech Republic, which have also started blacklisting illegal gambling sites. Poland has already blocked upwards of 900 sites, including big names like Ladbrokes, 888 Casino, PokerStars, and Jackpot City Casino. To get off of the blacklist, gambling operators must apply for a license to service the Polish market, or cease providing gambling services to Poland.
A similar approach could start being used by other countries in a bid to stop offshore gambling sites servicing local players, like in Australia where recent amendments to online gambling laws have made it illegal for foreign operators to service the Australian market without a license.
Leave a Reply
You must be logged in to post a comment.