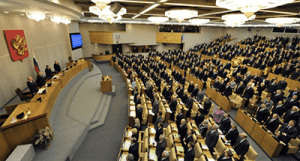 Russian lawmakers want to enforce payment blocking measures with international online gambling sites as soon as possible.
In February, the Russian government announced plans to force major financial institutions to block gambling transactions made at offshore gambling sites.
The Ministry of Finance proposed the new bill in an attempt to cease an outflow of money from the country – it is estimated over 169 billion Russian Rubles goes to offshore gambling sites.
While the bill remained stagnant over the past two months the State Duma Committee on Budget and Taxes now wants it approved by the Duma – the Russian State Assembly – this Friday.
This is when the draft law will have its first reading, proving its importance to the Russian government. The bill was created to encourage local gamblers to bet at Russian-licensed betting sites, instead of offshore companies, which will in turn cap the outflow of money.
The piece of legisaltion also includes hefty fines for Internet Service Providers (ISPs) which don't block gambling sites that have been flagged by the Russian watchdog, Roskomnadzor.

A blacklist of payment processors which ignore the new legislation and continue to process transactions will also be created.
While online casinos are illegal in Russia, many play at offshore sites. By blocking payments players won't have anywhere to gamble on blackjack, roulette or other real money casino games.
Sports betting on the other hand is legal and regulated in the country. While there are sites players can turn to if the payment blocking measures are enforced, there aren't many.
Available sites include the Russian lottery company, Trade House Stoloto and Liga Stavok, along with Bingo Boom and Fonbet. BetCity announced it has plans to launch an online betting site too.
There's a strict set of rules for Russian-licensed online bookies, though. They all must direct payments view a centralised hub known as TSUPIS. This allows the Russian government to keep an eye on online gambling activity.
When it comes to the regulatory body, Roskomnadzor, its powers extend to blocking unauthorised gambling sites. It was given the power to do so in 2015 which saw 12,561 gambling domains blocked the following year. This also resulted in PokerStars and Wiliam Hill exiting the market.
While it has blocked over 3500 gambling domains this year, the Russian government still want more done to clamp down on offshore gambling.
If this bill is enforced, there will be more and more offshore gambling sites which no longer except Russian players.
Leave a Reply
You must be logged in to post a comment.