Roulette is one of the most popular casino games of all times, with two variations fighting for the position of best roulette game. We explain the difference between American Roulette and European Roulette and compare the two to explain why online players should always choose the European version when playing for real money at an online casino site.

Best online casinos for real money roulette
American Roulette VS European Roulette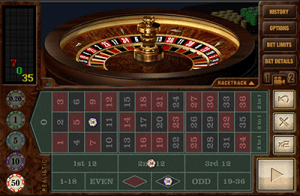 Two of the most popular variants of roulette are American and European roulette. While both are near identical in rules, play format and betting style, the one key difference that distinguishes the two is the number of slots there are on the roulette wheel:
The European version of the game has one green slot for the number zero (0) for a total of 37 numbers.
The American version of the game has an additional green slot on the wheel for the number 00 for a total of 38 numbers.
While this may seem like a minor difference, it greatly affects the odds and house edge of one of the most enjoyable casino games in the world. That additional zero in American Roulette makes it the roulette version to avoid, with players always urged to pick European Roulette when it is available.
American and European Roulette odds and house edge
It really should be a no-brainer – players should stick with European roulette games, as this is the version that holds superior odds in favour of the player. Regardless of this fact, the American version is still preferred by a large number of players, and is often the only version offered in land based casinos. American roulette was introduced long after European roulette, and many land-based casinos across the United States continue to offer lower betting minimum tables to attract the smaller stake players. Despite the game pushing the house edge up significantly, players are drawn to American roulette as they like the flexibility of being able to wager smaller amounts.
In 2008, Australia's Crown Casino also introduced American roulette tables to its gaming floor, claiming it provides a low-end price for its patrons, as it wasn't cost effective to provide European roulette at a lower denomination. In the Crown Poker Room, betting minimums are as low as $1.
So, just how significant is the increase in the casino edge? Firstly, let's make sure we understand what the house edge is. Also known as vigorish, the house edge refers to what the casino's profit will be from a player's original wager (over time). This is calculated by determining the probability/odds of a player winning, compared to what the actual payout will be if that player wins (the player's expected value).
Let's compare European Roulette with American Roulette odds by taking one of the more common wagers in roulette as an example – the straight up (single number) wager. Bet one unit on a single number in American roulette, and you have a 1 in 38 chance of winning. The payout is 35:1 (35 times your original wager). You thus have a 37/38 shot of losing. Bet one unit on a single number in European roulette and you have a 1 in 37 chance of winning. The payout remains the same.
American roulette: (-1 x 37/38) + (35 x 1/38) = −0.0526 (a 5.26% house edge).
European roulette: (-1 x 36⁄37) + (35 x 1/37) = -0.0270 (a 2.70% house edge).
The -1 refers to the chance of losing the one unit (i.e. winning minus one unit), which is then multiplied by the odds of such an event NOT occurring. That equation is added to the winning payout amount (which in this case is 35 times your bet), multiplied by the true odds of winning.
As you can see, American roulette's house edge is almost double that of European roulette. This differential in casino edge holds true for all the different types of wagers across European and American versions of the game except the top line (first five) wager in US roulette. The Top Five wager (where a player bets on the following group of numbers: 0, 00, 1, 2 and 3), holds a huge house edge of 7.89 per cent. Check the formula to confirm:
The payout is only 6:1, and the odds of successfully winning this bet are 5 out of 38 (roughly 13 per cent). So: (-1 x 33/38) + (6 x 5/38) = -0.0789 (equates to a 7.89% house edge). Steering clear of that bet shouldn't be a problem, because it is not offered in European roulette, and by now, you should have realised, that is the only roulette variant (aside from French roulette) you should be playing.
Playing online roulette
Seeing as though most land-based casinos across North America, Australia and New Zealand have pushed their European roulette tables to a higher minimum, and left only the sucky US variants at lower betting minimums, lower stakes players might find it hard to keep to their betting limits playing Euro games at a brick and mortar venue.
This is where playing online reigns supreme. With less overheads, regulated online casinos can offer a greater range of game variations suited to all players, with lower minimum betting limits for recreational punters, higher wagering limits for high rollers, better odds, better bonuses, and instant live help for any concerns. Online, you can play European roulette for as little as 50 cents – something unheard of within the walls of a land-based gambling venue.
If you reside somewhere in Europe, you won't have an issue at a land-based casino, as the primary game of choice is, understandably, European roulette. However, some of the best online casinos are hosted within European countries, and many of the games available on the Internet aren't available offline. The connivence aspect of online play is also unmatched.
Live dealer roulette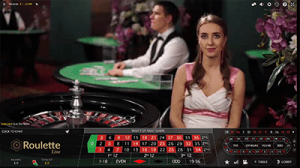 If you're wary of computerised roulette software and are looking for a way to play roulette games online that are as real as in a land based casino, consider indulging in live dealer and immersive games of roulette. Live dealer games provide an authentic casino experience with real croupiers in charge of spinning the wheels, which are streamed in high definition video while you bet directly using your computer, mobile or even your Smart TV. When using live dealer software, you can choose between European, American and French roulette rules.
To start your online roulette experience, head to one of the top-rated casino sites in the table above. This casino table has been geo-targeted to recognise your location and only recommend roulette sites that accept players from your country. For an extra layer of security when playing roulette online, consider using a trusted VPN service.