If you are new to the world of gambling – online of off – you may struggle to understand some of the many phrases associated with the pokies. We have compiled all the common terms you will come across so you can start spinning the reels and actually know what you are doing.

Best online pokies casinos
We will kick things off with what pokies refer to and their associated terminology, and follow it up with the standard terms you will come across when playing.
What are 'pokies'?
Pokies is essentially Australian jargon for slots. In Australia, most people refer to slot machines as pokies, poker machines or fruit machines (fruities). It is interchangeable with slot machines and slots, and virtually means the same thing. While the name may seem foreign to you, rest assured, it is the exact same gaming machine and format as any other slot machine elsewhere in the world.
All of the following definitions are still applicable to those playing online or offline slots elsewhere in the world – just replace 'pokies' with 'slots' and you are set.
Types of online pokies games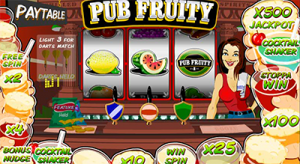 Classic pokies/fruit machines: These are the most traditional type of pokies available online and generally involve 3 reels, though some can have 5 reels. They can stick to the traditional fruit symbols, and Liberty Bell symbol (inspired from the first ever invented land-based slot), but they can also see unique symbols across the reels too.
Video slots: These are the main type of slots you will find at online casinos and generally contain 5 reels and include crisp graphics, multi-level bonuses, and animations on a win. Some even include short clips at the beginning to tie in the theme.
Ways to win: Ways to win pokies scrap paylines completely and instead see symbols pay out from left to right, regardless of where they are on the reels. For example, you score four of the same symbols on reels 1, 2, 3, and 4, but in any position along the row. The most common ways to win pokies are 243 ways to win, however 1024 ways to win and even 3125 ways to win are being found in the large online pokies catalogues.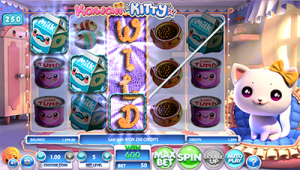 3D pokies: 3D slots are the next generation of video slots and have been made incredibly popular thanks to the software developer BetSoft. The innovative graphics are brought to life via 3D technology to create a cinematic experience when playing, and can really add to the overall gameplay. These also feature clips at the beginning, but use 3D graphics.
MegaSpin: MegaSpin pokies aren't for the faint hearted – they involve several slot machines in the one window so you can spin multiple at once, sometimes up to eight. This can see a higher minimum bet required but this also mean a higher return on a win.
Pokies gameplay terminology
Active payline: Pokies can have anywhere from one right up to 100 paylines, however this doesn't mean they are all active. Since you need paylines to win, the more you have the more chance you will win. You can choose the number you wish to wager on, with your wager increasing with each additional payline.
Balance The amount you have in your casino account to use on the slots, as well as any other casino game available.
Base game: The main game, not the Bonus features.
Bet: The amount you wish to risk on the reels to potentially win.
Bet Max: A button you can click to automatically wager the maximum bet available.
Bet Min: A button you can click to automatically wager the minimum bet available.
Big Win: You haven't activated a feature – or you may be in the middle of a feature – but you have won big and will receive a huge payout in accordance to your bet.
Bonus Feature: Bonus features are additional rounds which can be activated within the game via a certain combination of symbols. These can simply be Wild bonus features where Wild symbols transform into say Dashing Wilds (see Wilds definition below), or they can be rounds where you are taken to a different view screen and can pick or click on symbols to reveal prizes and more.
Bonus symbol: The Bonus symbol activates the Bonus Feature. You can find out what it is via the paytable (see below) and you will generally need at least three to trigger the Bonus round.
Collapsing wins/reels: This is a bonus feature within the base game but can transfer into Bonus Features too. Here symbols of a winning combination can collapse/explode/cascade and new symbols will fall/cascade in their place, to give you another chance at creating a winning combination.
Click or pick me feature: An additional Bonus Feature where players are taken to a new view screen other than the base game and instead of reels are greeted with a variety of symbols or a picture where you need to click to reveal a prize.
Coins/credits and coin sizes: Rather than just betting a straight amount, slots require coins. These can be as little as 0.01 and as big as 5.00 and sometimes more. One coin can equal a different amount on different slots, so one slot could have one coin equalling 0.5 while another could have one coin equalling 0.25. The more coins you bet the more you multiple the coin size so if you were to bet two coins per line at 0.25 you would be betting $0.50 per spin. If you increase the coins to 0.50 and still bet two coins you will be betting $1.00.
Free spins feature: Similar to a Bonus Feature except these are generally activated by Scatters or Free Spin symbols (see below) and see a specific number of free spins allocated – as little as just two or go right up to 50. They also usually have a multiplier (see below) or a special Wild attached.
Free spins symbol: Some pokies use Scatter symbols (see below) while others uses specific Free Spins symbols. You need to spin a certain amount, usually at least three to activate the Free Spins Feature.
Hit: Another word for a win.
Jackpot: Jackpots refer to the maximum amount available to win in a single spin. They should not be mixed up with progressive jackpots.
Multiplier: Multipliers can occur in base games, Bonus Features, and/or Free Spin Features. These see the winnings you incur from one spin multiplied by a specified number, anywhere from 1x right up to 10x and more.
Payline: A payline is the line where symbols need to match up in order to win. As mentioned above these are only in play for payline slots and are scrapped on ways to win slots. If a payline isn't active and a winning combination occurs you will not be paid.
Paytable: Information on the symbols and how much they pay.
Payout: The term used to describe winnings.
Progressives: Pokies with a progressive jackpot attached.
Progressive jackpot: This is a jackpot only available on progressives. The jackpot starts off at a certain amount and grows when every player makes a wager as a percentage contributes. There can be just one large or medium jackpot or there can be multiple jackpots.
Reels: These are the vertical columns which the symbols are placed on and are usually involve 3 or 5.
Rows: The horizontal columns which are generally set at 3 rows but can be as little as 1 on classic pokies and as many as 4 on video pokies. When you see 5×3 pokies it means 5 reels and 3 rows.
Return to player percentage (RTP %): This is the percentage a player will see returned to them for every bet they make over the long term. For example, if you bet $100 on a 98% RPT slot you will see $98 returned for every $100. It is important to note it isn't paid equally it is just the RTP the slot has earned on average via all players – which is why sometimes you will lose more and others you will win more.
Random Number Generator (RNG): Online pokies, as well as land-based pokies, use software that randomly generates the outcome. Play at secure pokies sites such as the many we suggest to ensure the software is indeed random.
Scatter symbols: These are specific symbols you will find in the paytable which can trigger Free Spins features or other Bonus Features, or simply just pay out a large coin amount.
Spin: The button which initiates the reels to spin.
Volatility You may not see this term as much but when you do it will be paired with low, medium, or high volatility. This determines the risk of the slot – low means low risk meaning they pay regularly but not a big amount, medium means medium risk meaning they pay out fairly regularly and a fair amount, while high means high risk where they don't pay out regularly but when they do it is a huge payout.
Wild symbol: The Wild is generally the pokie's logo but can sometimes be a different symbol so be sure to check the paytable. These substitute for all symbols but Scatters and other Bonus symbols, and can sometimes be Stacked, Dashing, Expanding, and more, which basically sees the Wild transform to create even bigger wins for the player.
Put your newfound knowledge of the pokies to the test by heading to Slots Million where there are over 1600+ games available from the leading software developers. Games can be played for free in practice mode or for real money bets, with up to $100 in bonus money available to new players.