One of the biggest online casino software providers has opened up the largest live casino in the world.
Based in Riga, Latvia, Playtech has built the biggest next generation live casino studio which measures over 8500 square metres, overshadowing any live casino studio available in the world.
This is compared to Evolution Gaming's biggest live studio in the same city at 4400 square metres.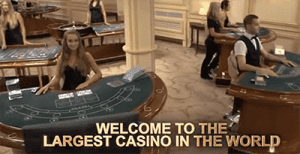 The most exciting news to come out of this new studio launch is the innovative integrated technology including hundreds of cameras, which will provide new and unique angles of the tables for an even more authentic land-based experience.
This is combined with an advanced control and monitoring centre, and even a dealer school where staff will be thoroughly trained. This will deliver a customised experience and allow for even more tables to be added.
CEO of Playtech, Mor Weizer, said only Playtech could deliver this never before seen gaming experience.
"This has been a huge undertaking but, more importantly, is a huge step forwards in live casino and one no other company except Playtech is capable of making," he said.
"Our licensees' offerings have firmly been future-proofed with the completion of our new studio, leading-edge software and hardware and state-of-the art control centre.
"And crucially, it is their players who will benefit the most from the best live casino offering on the market.
"This now gives us the platform to deliver the next generation of live casino to our customers, and will also give us the flexibility and ability to deliver many new and innovative products."
The studio and all in-built technology has been based on a futuristic model to accommodate for the advanced Playtech software and hardware. It has been created to cater for the European market, adding to the company's stellar reputation as a leading provider of next-gen live casino games.
As such, additional space for new customers has been created due to high demand and expectations more and more will make the switch to the provider over the course of the year are high.
Playtech also operates live studios in Belgium, Philippines, Spain and even Romania – as of earlier this year – which caters for the global demand in the live gaming market. The live games can be accessed anywhere, via the Playtech ONE Omni-channel offering, and on any device all via the one account.
Leave a Reply
You must be logged in to post a comment.