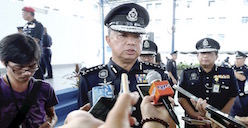 Police in Penang, Malaysia made it their mission to eradicate illegal gambling in the state in 2017, with the police chief revealing they have successfully wiped out 99 per cent of illicit gambling activities since the start of the year.
At the start of July, Penang police had already conducted 215 raids and made 652 arrests (384 gamblers and 268 gambling staff) – a huge improvement over the previous year where only 140 raids and 234 arrests were made over the entire 12-month period.
During the raids, police seized 448 simulator machines, 633 slot machines, 119 computers, 19 tablets and four mobile phones used to conduct the illegal gambling activities.
State police chief Datuk Chuah Ghee Lye said the raids were part of two special operations instigated to curb the rise of problem gambling and the operation of illegal gambling machines.
He said, "The police also detected a new gambling tactic which is done using tablets and carried out in remote areas such as at the edge of the jungle to avoid being detected by authorities."
According to Chuah, the intensity of the raids increased following a directive from Deputy Prime Minister Datuk Seri Dr Ahmad Zahid Hamidi, who wanted to see all illegal gambling activity eliminated from the state. Dr Ahmad Zahid also instructed the police to arrest and jail any gambling kingpins who sponsored political parties.
Police plan to continue conducting surprise raids on entertainment venues to ensure they are complying with gambling regulations. Chuah says there is "no compromise" for illegal gambling, and that a venue will have its operating license revoked even if there is only one gambling machine found on the premises.
The raids have been challenging for police, with operators taking great precautions to avoid a bust. Gambling operators have been known to employ lookouts to give warning of an upcoming raid, and only allow regular punters to frequent their venues. Upon entry, gambling is not always easy to catch as players have been known to shut down computers or switch screens to hide their gambling activity.
The police have gone to great lengths to catch the criminals, sending gambling experts into the illegal venues to play games and gather evidence which can be used in court.
Anyone found to be violating the gambling laws in Penang are liable to be charged under the laws of the Entertainment Enactment 1998, the Common Gaming Houses Act 1953 and the Prevention of Crime Act 1959.
Leave a Reply
You must be logged in to post a comment.