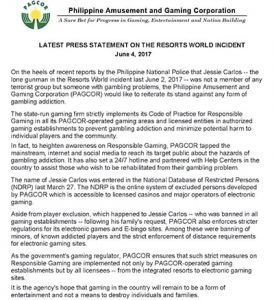 The Philippine's gambling regulator has defended its problem gambling preventative measures after the deadly attack on one of the country's casinos.
The Philippine Amusement and Gaming Corporation (PAGCOR) responded to claims the regulator needed to implement better problem gambling initiatives after it was revealed a man who was addicted to gambling was responsible for the Resorts World Manila attack.
The lone gunman, identified as 42-year-old Jessie Carlos, a former Department of Finance employee, entered the casino on Friday, June 2, with a gun. He then proceeded to set a number of gaming tables on fire.
While reports state he did not shoot anyone, 37 people died as a result of the chaos, including many suffocating in hallways from the smoke.
It was initially believed to be a terrorist attack but it has now been revealed the resident of Sta Cruz, Manila, targeted the casino since he was "heavily in debt" due to gambling.
It has also been reported Carlos, who took his own life following the attack, was often placing minimum bets of P40,000.
According to a Philippines police spokesman, Oscar Albayalde, Carlos reportedly owed over P4 million in bank debts as well as an undisclosed amount to private lenders "due to being hooked on casino gambling."
The state-run gaming firm issued the statement after Philippine's Senate President, Aquilino Pimentel III, said PACGOR needs a counselling program to help casino gambling addicts.
He also said "casinos should be reminded not to take advantage of addicted gamblers" and "should intervene and stop the player from throwing his money away without realising it."
PACGOR responded via a press release on its website.
"The state-run gaming firm strictly implements its Code of Practice for Responsible Gaming in all its PAGCOR-operated gaming areas and licensed entities in authorised gaming establishments to prevent gambling addiction and minimise potential harm to individual players and the community," the statement said.
"As the government's gaming regulator, PAGCOR ensures that such strict measures on responsible gaming are implemented not only by PAGCOR-operated gaming establishments but by all its licensees."

According to PAGCOR, Carlos had been subjected to problem gambling measures already implemented, as he was barred from all casinos and gambling venues in the Philippines, at the request of his family. He was entered into the National Database of Restricted Persons on March 27.
PAGCOR said it has strong policies in place when it comes to problem gambling.
"In fact, to heighten awareness on Responsible Gaming, PAGCOR tapped the mainstream, internet and social media to reach its target public about the hazards of gambling addiction," the statement from PACGOR said.
PACGOR is referring to the 24/7 hotline set up for problem gamblers via the assistance of help centres around the country to help rehabilitate addicts.
The regulator also highlighted its online casino gambling policies.
"Aside from player exclusion … PAGCOR also enforces stricter regulations for its electronic games and e-bingo sites," the statement from PAGCOR said.
"Among these were banning of minors, known addicted players and the strict enforcement of distance requirements for electronic gaming sites."
The regulator finished the statement by saying "it is the agency's hope that gaming in the country will remain to be a form of entertainment and not a means to destroy individuals and families."
The United Nations World Tourism Organisation (UNWTO) also expressed condolences to the Resorts World Manila victims.
"On behalf of the international tourism community, UNWTO conveys its heartfelt condolences and sympathy to the families and friends of the victims and to the Filipino people," UNWTO secretary general Taleb Rifai said in a statement.
Leave a Reply
You must be logged in to post a comment.