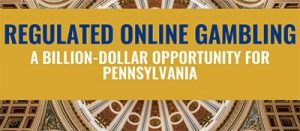 Pennsylvania is even closer to legalising online gambling in the US state as the Senate passes a new gambling bill.
If we sound like a broken record, it is because there has been quite a number of gambling bills proposed by legislators in recent weeks.
This week a bill which has been making slow progress, known as House Bill 271 was agreed to by the full Senate – after passing two Senate committees earlier this month.
It passed on Wednesday by a significant margin with 38 voting for, and just 12 voting against, with it now set to go to the House for debate.
If the bill does make it through the House, Pennsylvania will be the first US state to allow both its casinos and state-owned lottery to offer their games online.
The bill would also make Internet gambling parlours legal in airports, regulate online fantasy sports games and reintroduce a condition which requires casinos to pay millions every year to local governments.
The problem is, while the House are quite vocal about legalising online gambling, the legislators prefer other gambling bills, including one which would see video gaming terminals installed in bars, clubs and other liquor licensed venues.

This could end up seeing the bill dismissed – the House and Senate in Florida were trying to agree on gambling amendments but could not and this saw all gambling-related legislation thrown out.
Additionally, even if the House does approve the Senate's bill it might not mean the online gambling industry will flourish in the state.
The bill is suggesting a 54 percent tax rate on online casino revenue. While it is the same tax rate that land-based casinos receive, it is high considering New Jersey – where land-based casinos are legally allowed to offer online casino services to NJ residents – has a 17.5 percent tax rate.
The huge tax percentage is not the only drawback – there is a $5 million upfront license fee for online operators and an extra $5 million to include online poker. Operators may not agree to this.
While the House can change the tax rate – legislators have previously agreed on a 16% tax rate for online gambling – it might not happen since the bill was created in order to generate revenue for the state's budget. An estimated $400 million has been reported as a result of legalising and regulating online gambling.
But if the tax rate is lowered, Senators may not agree when it is returned for concurrence.
The House will most likely debate the bill after the Memorial long weekend. Any amendments will need to be resolved before the state's new budget, which is due on June 30.
Leave a Reply
You must be logged in to post a comment.