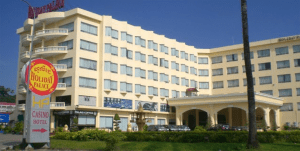 Government officials in Cambodia are calling for stricter enforcement of laws prohibiting Cambodians from gambling in the country's casinos.
Under Cambodian law, all forms of gambling are off-limits to Cambodian nationals. While the country houses over 60 land based casinos, these exist solely for foreigners, with Cambodian nationals forbidden from entering. However, this isn't stopping casino operators from the seaside province of Sihanoukville, who are reportedly allowing Cambodians to gamble in their venues.
The Phnom Penh Post reported that Preah Sihanouk Governor Yun Min issued a statement on the 20th of January calling for increased vigilance towards Cambodian's anti-gambling laws.
Min said, "There are some casinos that do not comply with the government's strict instructions and have allowed Cambodian clients to gamble, resulting in impacts on public order and social security."
The report comes after photos were released anonymously on social media showing opposition member Eng Chhay Eang gambling at a Phnom Penh casino. In 2005, Chhay Eang admitted to having a gambling addiction, subsequently resigning from the Sam Rainsy Party. He returned in 2007, saying he had chosen politics over gambling.
Gambling is a popular pastime in Cambodia, with anti-gambling laws leading many people to gamble illegally. Police often look the other way, while casino operators have been known to reserve private gaming rooms for government and law enforcement officials.
Sihanoukville City Governor Y Sokleng refuted Min's request by saying the city administration held no authority to enforce the ban.
"It is not related to city administration. And secondly, regarding Cambodians gambling, in the past, the city had invited casinos and instructed them not to allow Cambodian people to play," he said.
A strict enforcement of the laws is not good news for Cambodian casino operators, who are already reeling from the news that Vietnam will launch a three-year trial period allowing local Vietnamese players to enter select casinos.
Like in Cambodia, Vietnamese nationals are prohibited from gambling in Vietnamese casinos, resulting in many Vietnamese players crossing the borders to gamble in Cambodia. Under the trial program, Vietnamese nationals will now be allowed to gamble in two upcoming casinos in Quang Ninh province and Phu Quoc Island, provided they meet minimum wage requirements.
The changing laws have prompted gaming analysts to predict some Cambodian casinos will struggle to survive during the trial period, as many rely on gaming revenue brought in from Vietnamese players. Strict enforcement of laws banning Cambodian players will add further fuel to the fire.
Leave a Reply
You must be logged in to post a comment.