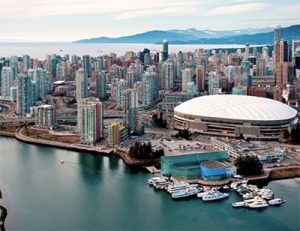 A year-long investigation into suspected money laundering in Canadian casinos has resulted in nine arrests.
Nine suspects were arrested in the Canadian province of British Columbia (BC), authorities announced on Tuesday. It is alleged the group laundered millions of dollars through local casinos.
The exact casinos have not yet been identified, though police were clear no casino employees are suspects.
Authorities began their investigation into a criminal gang – which reportedly has links to mainland China – in May 2016. They discovered some of the members already had links to illegal gambling houses and had involvement with drug traffickers.
The gang has been accused of money laundering, extortion, loan sharking, and even running its own illegal gambling houses. Four of these venues have been identified and authorities are reportedly investigating the links between the gang and groups working out of mainland China.
Not one of the suspects has been formally charged yet, however they do reportedly face charges of money laundering, proceeds of crimes and even drug trafficking.
The joint illegal gambling investigation team was created in April 2016 by then-Finance Minister, Michael de Jong. It is made up of 200 officials from the British Columbia Combined Forces Special Enforcement Unit (CFSEU) as well as officials from the BC gaming policy and enforcement branch.
CFSEU Assistant Commissioner, Kevin Hackett, announced the arrests at a press conference on Tuesday.
"During the investigation, it was apparent there were multiple roles filled by different people (who) enabled or facilitated the organisation in laundering large amounts of money through casinos," he said.
"It's safe to say that we're looking at millions of dollars being laundered."

Investigators raided six homes and seized communication devices, cash, bank statements, drug paraphernalia and even a number of expensive cars which members of the group owned.
"Money laundering, loan sharking and illegal gaming provide an attractive source of income for organised crime," Mr Hackett added.
"Clients who utilise these services need to be aware that often the cash being provided to them is from illegal activity, and that using such services provides financial support to criminals and funds their illegal enterprises and operations."
Police have revealed the investigation is ongoing, and they expect to make more arrests in the coming days.
British Columbia Gaming Industry Association executive director, Peter Goudron, said he is concerned at the scale of the money laundering allegations.
He told the Vancouver Sun he was unaware "how this could have taken place"… "given the robust [anti-money laundering] procedures in place at BC casinos".
The Association said BC casinos must report a cash buy-in of more than $10,000, as well as suspicious transactions to the British Columbia Lottery Corporation (BCLC) and Canada's money-laundering watchdog, Fintrac.
The arrests have come at an unfavourable time for BCLC as its corporate security and compliance division is reportedly scheduled to give an "improvisational comedy" routine during the Canadian Gaming Summit next week to "change the perception of their role" in the gaming industry.
Leave a Reply
You must be logged in to post a comment.