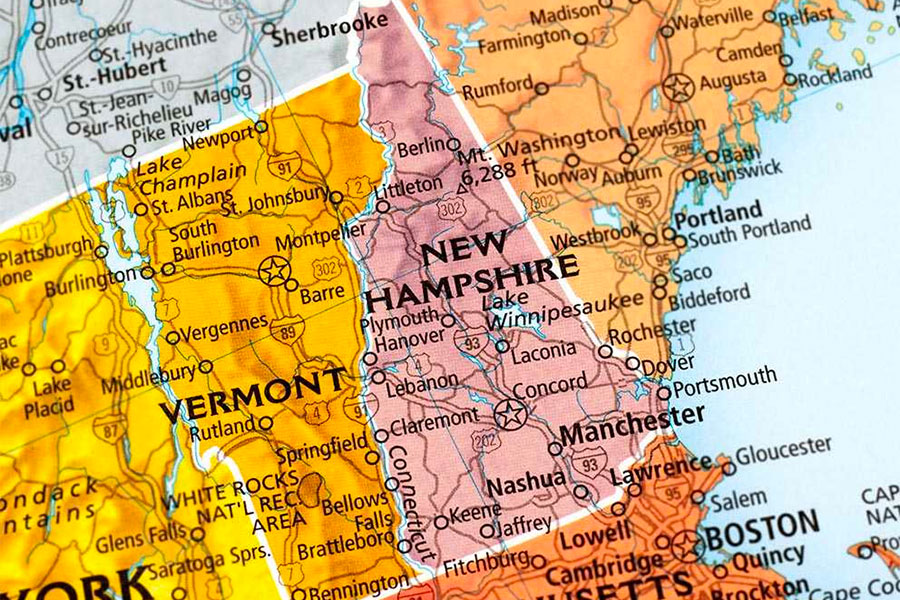 New Hampshire may be welcoming new online casinos on April 1, 2024, if the bill receives approval by the end of this year.
If the bill is approved, online casino gambling will become legal in the state on January 1, 2024, with three to five gaming websites going live in April next year.
The online casino bill was introduced by Sen. Timothy Lang (R-Sanbornton) earlier this month, and in his draft he has stated that the online casino gambling will bring about $17 million in gross gaming revenue to the state in the first year of operation.
Currently, in-depth details on the iGaming bill have not been disclosed yet. The tax rate, number of operators, and license fee have not been made known to the public yet. Lang has stated his intent to divert the tax revenue generated to pay tuition fees for eligible students through a Community College Scholarship Fund initiative.
This is not the first bill Lang is pursuing, as he was one of the primary proponents of online sports betting in 2019, which came to fruition and has sportsbook giant operators such as DraftKings and sports betting and lottery provider Intralot benefiting from the bill in state now.
According to a government affairs manager at DraftKings, Rebecca London, who is a supporter of online casino gaming, the new bill will be beneficial to the state in its entirety, as opposed to what many brick-and-mortar operators are saying, that it will reap them off their business.
London said the bill will only generate more revenue for the staff, with the community not having to raise taxes for it. She added that the state will also be leveraging a new "form of entertainment". She also made reference to the New Jersey gaming industry, where despite integrating new forms of online gaming, all kinds of gaming in the state continued to reach highs in terms of revenue generated.
"We take pride in our partnership with the New Hampshire Lottery as an authorized agent of online and retail sports betting. Online gaming, such as that that is contemplated in SB104, offers the state an opportunity to capitalize on a new form of revenue, providing citizens with new forms of entertainment without having to raise taxes," London said.
Like every gaming bill passed in all legislatures, there is likely going to be opposition from parties who have reservations about the bill. A former New Hampshire senator, Peter Bragdon, said online casino gaming is too broad a sector for the state to indulge in right now. He suggested that they should focus on the horse racing, which champions charitable programs in the state.
"Shouldn't we also have a better understanding of how this new gaming model [historical horse racing] is working before we introduce yet something else, online gaming, that could actually have a negative impact on charitable gaming?" he said.
"We think it's too soon to pursue another broad change to gambling in New Hampshire and respectfully suggest that we proceed cautiously and roll a study of online gaming into the study on historical horse racing and charitable gaming."
As opposed to Bragdon, Lang said charitable programs can also be sponsored by online gaming casinos, as all that will need to be done is the incorporation of the kinds of games that are used in charitable gaming.
"In New Hampshire, the only gaming that's allowed is the gaming that's authorized by the state. This would extend the authorized gaming to include online gaming and any of the functions that are allowed by charitable gaming – with the exception, I believe, of HHR – would be eligible for online gaming," said Lang.
"So we're talking about Texas Hold 'Em, poker, those kind of games, that are currently allowed in charitable gaming we would allow for an online gaming model."
New Hampshire is not the only US state that is on its way to passing the online gaming bill. Other states include Kentucky, Indiana, and a few others.
Leave a Reply
You must be logged in to post a comment.