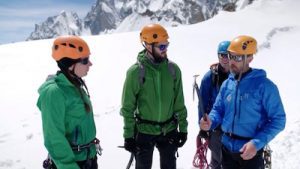 If online casinos, gaming and reality television are your jam, you may want to check out The Challenge, which is a new web series by NetEnt, one of the leading developers of online casino software.
NetEnt launched the reality television series in May as a unique content marketing campaign and recruitment drive, with the intention to "help cement NetEnt's reputation as a leader and innovator in the tech sector, and position the premium gaming supplier as a first choice for top talent in a highly competitive field."
The eight-part series presents a rare insight into the workings of a major, multi-national organisation, while promoting NetEnt as a progressive tech company and attracting new employees to apply for a job with the gaming studio. The synopsis of the show says:
"Here's the deal: We've created The Challenge to let everyone know what it's like to work at NetEnt. We want you to know more about our culture and the gaming industry, so we thought an employee web series would be a pretty cool idea. Oh, did we mention it takes place in the Alps? Four of our colleagues put our culture and values to the test by climbing a very high mountain – with no experience. Sounds crazy? See for yourself! Who knows, if you're looking for Better Mondays, our culture may be just right for you!"
The Challenge follows four NetEnt employees as they are chosen out of a pool of 900 hopefuls to be part of the Mountain Team, who must climb one of the tallest mountains in the European Alps with assistance from colleagues in-house. Each episode follows the team as they learn the skills needed to climb the mountain, work together with other NetEnt employees to cultivate great teamwork, and prepare themselves for the challenge, which proves to be much more intense than they bargained for.
The episodes go for under 10 minutes each, and can be streamed for free via the official NetEnt website or on YouTube.
This creative marketing campaign has proven to be incredibly fruitful, with NetEnt reporting episodes of The Challenge have been viewed over 1.4 million times since May. Job applications for the company have risen by 86%, while traffic to NetEnt's social media channels increased by 325%.
NetEnt CEO Per Eriksson said, "It's a project we can all be proud of as a company as it highlights how fun but challenging it is to work here every day. It's good to give prospective candidates an exclusive behind-the-scenes view at what working at NetEnt really looks like.
"The success of The Challenge shows that our workforce is never afraid to go above and beyond and their dedication will only continue to lift us."
You can read more about NetEnt's online casino software here.
If you'd like to give these games a go and see why NetEnt has solidified its place as one of the best game developers in the world, head to Slots Million where new players who sign up for an account and make a deposit can get a $100 bonus and 100 free spins to use on some of NetEnt's most popular online slot games.
Leave a Reply
You must be logged in to post a comment.