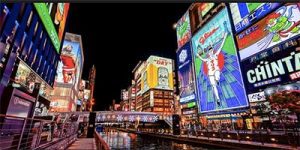 Osaka is being praised as the ideal destination for Melco Resorts and Entertainment in terms of a new Integrated Resort (IR) in Japan.
At the end of last year, Japan revealed it would be lifting the ban on casinos – an issue the country has been debating for over 15 years.
The months following the change has been dedicated to planning and outlining the implementation of the IRs which include a casino. Locations and operators are being mulled over by lawmakers, while social issues are being considered for the planned legislative framework.
While Tokyo, Osaka and Yokohama have been branded the best cities for a land-based casino run by international operators, small cities have been quick to remind legislators they were promised a venue to boost revenue.
When it comes to international casino operators, Chairman and Chief Executive Officer of Melco Resorts, Lawrence Ho Yau Lung, believes Osaka is the best destination for a casino. He wants his company to build an IR in the Kansai region – specifically on the artificial Yumeshima Island in Osaka Bay.
While a third of Japan's population – around 39 million – live in Tokyo and the biggest companies in the world – including Sony – are based in the city, Ho believes the capital is not casino material. This is despite the city hosting the 2020 Summer Olympics – although it is unlikely a casino will be opened by then.
Ho told Bloomberg media outlet he believes Osaka is better than Tokyo for a Las-Vegas style brick and mortar venue since there are more opportunities to transform the city into an entertainment hub.
Ho said the Kansai region – which is an eight-hour drive from Tokyo – already has a number of attractions including Universal Studios Japan and the Kyoto Buddhist temples.

"When you go to the Kansai region, it's more fun, really, and we're a company that focuses on fun and entertainment," Ho said.
"I'm not so sure Tokyo needs an integrated resort.
"Tokyo by itself is amazing. It's like when people ask me "do you think New York and London need an integrated resort?" No, they don't."
Melco is in the running for a Japanese casino license – it has been reported there will be two to three available which are expected to be authorised by 2019 – with rivals including Las Vegas Sands and MGM Resorts. The latter operators have shown interest in Tokyo and Yokohama, though, which may explain Ho's stance on the other big city.
"MGM's business model is to build large-scale destination resorts with lots of stuff that cost a lot of money," Executive Vice President of Global Development for MGM Resorts, Ed Bowers said.
"So it needs to be in a high-density population area."
Bloomberg suggested the cheaper land – which needs to be big to allow for multiple hotel complexes, retail outlets and other facilities – may be the reason why Melco is more interested in Osaka where the population is around 2.7 million.
But the operators are not necessarily guaranteed a license, as cities have to agree to a venue and the government needs to approve a concrete proposal, as per guidelines released this month.
If the operators are chosen they could be a part of the next big gambling powerhouse, with reports the industry could generate ¥2.28 trillion annually.
This has reportedly resulted in a number of international casino developers doing their best to even be considered by potential cities.
"Right now, there is a lot of speed dating," Ho told Bloomberg.
"Sometimes, I go into a Japanese corporate's office and then I walk out and I see our competitors in the lobby."
Leave a Reply
You must be logged in to post a comment.