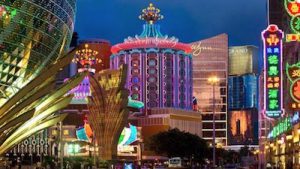 Macau has experienced a gaming revenue rebound in June despite falling short of analyst estimates, according to newly released government data.
Gross gaming receipts released by Macau's Gaming Inspection and Coordination Bureau revealed the Chinese special administrative region had a 25.9 per cent jump in monthly gaming earnings to 19.99 billion patacas (US$2.49 billion), much of it owing to increased demand and business from high roller VIPs.
The June growth follows a 24 percent jump in May, and analysts in a Bloomberg published survey previously predicted growth of 30 percent for Macau.
It is the highest recorded growth in total gaming revenue for the city since February 2014 and stands in stark contrast to last year's June figures, which showed earnings were at its lowest since 2010.

It is an impressive turn around for the only city in China where gambling is legal, given gaming revenue growth has been largely stunted for the past two years due to tighter gambling regulation and the government's crackdown on corruption led by Chinese President Xi Jinping.
Macau gaming regulator Gaming Inspection and Coordination Bureau has previously reported VIP revenue in the city went up 13%, mass revenue went up 7% and overall gaming revenue went up 10% in 2017, up from last year.
While the gradual resurgence in general gaming revenue, VIP revenue and junkets is impressive, many operators are taking a cautious approach when it comes to expectations of continued recovery, and stricter legal scrutiny continues to be on the cards for Macau casinos following the continued exposure and subsequent high-profile arrests of illegal proxy-betting rings.
Leave a Reply
You must be logged in to post a comment.