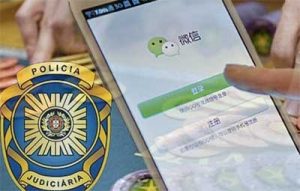 Macau police have uncovered another illegal proxy betting ring operating inside a VIP casino room.
The autonomous region of China banned mobile phones at Macau casinos on May 9 since the devices were used to make bets for customers from the mainland where gambling is illegal.
But illegal gambling rings which offer the unique betting service continue to be uncovered in Macau land-based casinos.
The most recent case involves 10 men and women from mainland China running an illegal proxy betting operation inside the VIP rooms of an unnamed Macau casino.
On August 2, Macau Judiciary Police raided one of the high roller rooms in the casino and arrested three of the male suspects.
The police allege that the syndicate live streamed the high limit baccarat games via mobile apps, such as WeChat. Huge sums of money reportedly came from mainland banks too.
"The criminal syndicate made profits by earning the junket commission from casino VIP rooms and drawing 5 percent of the bets when the 'banker' won the game," the Judiciary Police said in a statement to the media.
"When the bet was less than HK$5000, the criminal syndicate would play private games with the gamblers.
"The total bets were believed to exceed HK$6.3 million."

Police obtained records of these bets and winnings from the mobile devices of the three men.
They then arrested the remaining seven in a NAPE district building, seizing more mobile phones and other communication devices, as well as gambling records.
The suspects were moved to the Public Prosecutions Office to face charges of running an illegal syndicate and illicit operation of gambling in permitted premises.
The arrests follow a similar Macau police sting involving four locals and 13 mainland Chinese nationals in June.
The police arrested several members of the illegal proxy betting ring in a Cotai casino's VIP room. Some members were even caught red-handed live streaming the high limit baccarat games via smartphones.
The group allegedly provided up to three daily betting sessions and served up to 50 customers per session.
Two months earlier seven Chinese nationals operating a similar proxy betting operation were detained by Macau authorities.
China shuts down cross border gambling
Mainland China has also intensified efforts to crack down on illegal gambling including cross-border operations.
Members of an alleged online gambling ring have been flown back to Beijing from Fiji this week.
Police had been sent to the island to investigate an illegal gambling syndicate and returned with a total of 77 people.
The Chinese nationals were reportedly involved in more than 50 cases of illegal gambling generating over 6 million yuan.
The group targeted Chinese nationals but worked from Indonesia and Fiji, as well as their homeland.
Chinese media outlets have reported that authorities sent to Fiji early last month raided a number of gambling dens and detained the suspects. They also obtained communication devices and bank cards.
Beijing has been working with neighbouring countries to crack down on cross-border operations. In April, the Chinese police teamed up with authorities from the Philippines to crack down on an illicit cross-border operation. A total of 99 people were arrested and 1000 bank accounts were frozen.
Leave a Reply
You must be logged in to post a comment.