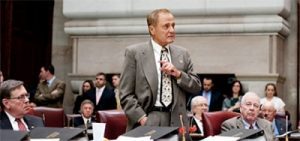 It is deja vu for the New York Senate as a bill legalising online poker has been approved without a hitch.
New York has been attempting to legalise online poker for some time, with a similar bill reaching the same parliamentary point last year.
The latest bill aiming to regulate the skilful game, as introduced by Senator John Bonacic, has passed the New York Senate Finance Committee without debate and will now head to the full Senate for consideration.
While there were five Committee members who were aginst the bill, a lack of discussion meant majority won out, and their arguments were ignored.
The bill was introduced and approved unanimously in February by the Senate Racing, Gaming and Wagering Committee which Mr Bonacic chairs.
Its future is unknown since the legalisation looked likely when the Senate included online poker in its draft budget last month before the New York Assembly removed it.
The Finance Committee's decision to approve the bill was expected as we have a been here before when it passed a similar bill by Bonacic last year. While the bill reached the Assembly, it was not discussed since Assemblyman J. Gary Pretlow declined to act on the legislation. Then the 2016 legislative season came to a close with no vote on online poker.
But that does not mean the new bill will face a similar fate.

Mr Pretlow has since taken a new stance on legalising online poker. In February, he announced the Assembly was more likely to consider a poker vote this year.
While his renewed outlook on the pastime is positive news, a tweet by New York journalist Andrew Whitman, revealed there is still some resistance against legalising the online game.
Mr Whitman had learned from Mr Pretlow the Assembly members who had "serious objections" were not concerned about Internet poker specifically, but the issue of whether state politicians were "making it too easy" for NY residents to gamble. The Assemblyman reportedly cited the increasing amount of land-based casinos opening in the state.
NY also has several gambling operations run by Indian tribes who will likely object to the legalisation of Internet poker.
The stance of the governor of the state, Andrew Cuomo, is not clear but Mr Pretlow believes he could be brought on board if $US100 million in poker revenue is presented as one of the benefits.
But a recent scandal which has been brought to light involving an illegal $25,000 donation to Cuomo's campaign from the former CEO of Canada's Amaya Gaming – parent company of one of the biggest online poker company in the world, PokerStars – David Baazov in 2014 may hinder his cooperation.
He could want to distance himself from online poker and may do so by publicly denouncing the bill ahead of an Assembly vote, or afterwards.
The legislative season for 2017 will conclude at the end of June. While there is three Assembly Committees the online poker bill needs to pass before getting a floor vote, there is the chance it will be cleared quickly.
If it does not get this far, a floor vote is unlikely, and the legalisation of online poker will have to wait yet another year.
Leave a Reply
You must be logged in to post a comment.