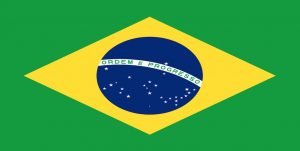 SOME of Las Vegas' biggest casinos are keeping an eye on Brazil as the South American country considers regulating the casino industry for the first time in decades.
Although no plans are in place to legalise land-based casinos in Brazil, the government is considering legalising online gambling, leading casino giants to ponder the possibility of Brazil being the next big international casino market.
Brazil once had a thriving casino industry, before casino gambling was banned completely in 1946 under the Criminal Contravention Act. Underground gambling has been prevalent for years, and many Brazilian's now turn to the Internet to place real money bets at offshore casino sites, where grey areas in the gambling laws allow them to do so without penalty.
In a bid to stop Brazilian money being pumped into international casino sites, the Brazilian government has introduced a bill to block online payments made to offshore casinos and is now considering issuing online casino licenses to qualified operators for the first time.
While no new regulations or legislations have yet been established, casino companies Las Vegas Sands Corp and Caesars Entertainment have identified Brazil as a future potential gambling market.
Jan Jones Blackhurst, executive vice president of public policy and corporate responsibility for Caesars Entertainment told the Las Vegas Review-Journal that Brazil could be a significant market. After making multiple trips to the Latin American country, Blackhurst has identified Brasilia, Sao Paulo, Salvador da Bahia and Rio de Janeiro as the top locations for a Brazilian casino due to their tourist appeal and number of wealthy residents.
She said, "Personally, I like Brasilia because it's the capital and many affluent people live there. It's very safe."
Rob Goldstein, president and chief operating officer of Las Vegas Sands agreed with Blackhurt. He told the Review-Journal, "We see what everybody else sees: It's a large population base and a fascinating country. Rio and especially Sao Paulo with its large population are compelling. If you look at comparable numbers for gaming in that region, it's clearly a market you need to pay attention to."
Las Vegas Sands chairman and CEO Sheldon Adelson met with Brazilian president Michel Temer and other government officials in May to discuss potential investments, but said the possibility of establishing casinos in Brazil remained far in the future.
Blackhurt said American casino companies expanding in Brazil would depend what the final legislation looked like.
"Is it at a tax level that allows you to invest the capital they expect?" she said. "Are the regulations going to be of a standard that will allow U.S. companies with highly privileged and regulated licenses to be able to comfortably participate?"
A major hindrance to the possibility of Brazil introducing a regulated casino market are the ongoing allegations against several government leaders into corruption involving bribery and money laundering. Unlike Japan which has introduced new laws to allow casino gambling in the country for the first time, the uncertainty of Brazil's leadership means it's unclear who would lead the legislative efforts.
Leave a Reply
You must be logged in to post a comment.