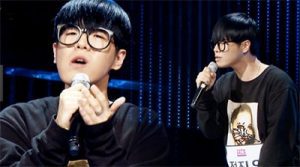 A Korean pop star has been sentenced to prison for gambling online at illegal websites.
Jung Jin Woo's popularity skyrocketed after he appeared on a talent search reality TV show called K-pop Star – South Korea's version of X Factor, the Voice, American Idol, etc.
Jin Woo reportedly spent a lot of his money earned from his career on gambling which has now landed him in prison.
The celeb has a huge fan base – in the hundreds of thousands – and the country with the strictest gambling rules in the world used that to make an example of him.
Federal authorities only alerted the public they had been investigating the 32-year-old for illegally gambling once he had been eliminated from the show. The K-pop Star season featuring Jin Woo commenced in 2015 and ended in 2016, where the talented musician came seventh.
But they had been investigating him since 2014 – likely due to being in a popular boy band called M To M prior to the TV show –when his computers were found to have illegal gambling activity recorded.
Jin Woo had managed to convince his stepfather to say he was the one gambling using Jin Woo's online account and as a result, the stepfather got a KRW 1 million fine.
The government still remained assertive since it was on Jin Woo's computers and since he failed to stop over the past two years, he was arrested. After pleading guilty to illegal gambling and convincing his stepfather to take the fall, Jin Woo was sentenced to one year in jail by the Seoul Southern District Court.

The court reportedly revealed the K-Pop star gambled around KRW 3.5 billion at illegal online gambling websites.
Nearly all forms of gambling, including online gaming, in South Korea, is illegal. If you're caught evading the law the consequences can be quite hefty.
While everyday Koreans are not likely to be caught online gambling, if a celebrity is even suggested to be engaging in the illegal activity authorities will investigate and severe penalties will be handed down.
This it to make examples out of prominent people who have violated the anti-gambling laws to deter the average citizen.
In late 2013, three South Korean celebrities who were caught betting on sports were each sentenced to six months in jail, while three others who gambled less were slapped with fines.
It is even illegal for South Korean nationals to gamble in a jurisdiction where the activity is legal and regulated, but any prosecution is only likely for high rollers.
Leave a Reply
You must be logged in to post a comment.