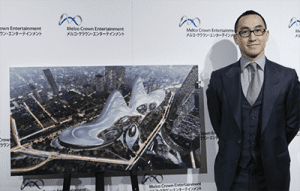 Three major casino companies are being quite vocal in their bid for a casino resort in the new Japanese gambling powerhouse.
Although legislators haven't finished drawing up the details which will outline the regulation of the new land-based gambling industry – it's set to be done by the end of the year – companies are already entering their bids.
Up to three integrated casino resorts are expected to be authorised in 2018 with Melco Crown, Hard Rock Café and Las Vegas Sands expressing interest.
Melco has revealed two potential developments for Osaka Bay and in the central Umekita district of the city, while Hard Rock Café is eying off a 40%-60% share of an integrated resort.
Chairman and Chief Executive Officer for Melco Crown Entertainment Limited, Lawrence Ho Yau Lung, said in a statement the company has always been interested in Japan.
"We are thrilled by the active approach of the Japanese government on the recently-passed integrated resort legislation," he said.
Ho Yau Lung added its venues, including Studio City Macau and City Of Dreams Manila, are examples of how a Melco-run Japanese venue will do.
"Our innovation and five-star-plus service culture have garnered many international and Asian awards and recognition as validated by the fact that we have the most Michelin-starred restaurants and the most Forbes five-star hotel facilities in Macau."
But operating a venue won't come cheap.
Last year MGM Resorts International said it was prepared to invest a minimum of $10 billion to operate one venue in Japan, a sentiment Las Vegas Sands reiterated at a Toyko investor conference earlier this week.
Ho Yau Lung has said the company will spend "whatever we need to win", while Hard Rock Café Chairman James Allen doesn't think the price tag will be the determining factor for a winning bid.
"It's important to make sure our local partners are involved in the relationship, not just as blind investors," he said.
Ho Yau Lung added its company coincides with the highly regulated industry, referring to the responsible gaming programs the company implements, as well as regular staff training.
"With integrated resorts in multiple jurisdictions, Melco Crown Entertainment Limited has consistently demonstrated its industry leadership in respect of social safeguards and has upheld the highest standards of corporate governance and social responsibility," he said.
The bids may be premature as the criteria for the integrated casino resorts won't be released until December.
It has been estimated just two integrated casino resorts could bring in annual revenues of up to $10 billion, and this could rise to up to $40 as more gambling venues are approved.
Leave a Reply
You must be logged in to post a comment.