The wealthy are a lucky bunch; they not only get to enjoy the thrill of playing with high stakes, but they also get to reap VIP benefits because they're playing with big money.
High rollers grace both land-based and online casinos, playing an array of high limit games and when they play a hand, roll the dice, or spin the reels with the average person's weekly wage they get offered incredible welcome bonuses to suit their needs, as well as amazing loyalty treats just for playing.
So what games do the rich play? We detail the games and even include some online titles so if you are wealthy and have an impressive bankroll you can check out these games to play and reap the VIP lifestyle from the comfort of your own home (or mansion).
What casino games do high rollers play?
While high rollers have plenty of cash to play with they generally stick to low house edge titles, because at the end of the day everyone wants to be a winner, even if you have quite a large disposable income.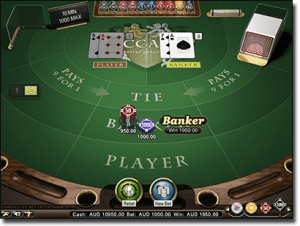 Baccarat is generally the most popular title amongst the high stakes players as it not only has a long history of being favoured by the rich (royals would play as a past time prior to the title hit land-based casinos), but it also offers a low house edge of around 1.06% on the banker bet and around 1.24% on the player bet.
Blackjack is also a high roller favourite due to the incredibly low house edge (can be as low as 0.28%). High rollers generally don't bet on insurance or play any side bets rather they stick to normal game play so they can take advantage of the house edge.
Craps is another popular title favoured by the wealthy players due to the low house edge of 1.41% for the pass-line bet.
Basically, high stakes players look for low house edge titles to play and win big. So if you're rich and ready to become a high roller, we have some games you can play online or to keep a look out for when at land-based casinos.
High roller table games
Table games are catered to high stakes players both online and at land-based venues. Table limits are generally higher at land-based venues but you will be able to find suitable limits online too.
High limit blackjack
We have picked out a few high stake online blackjack titles for you to try, which high rollers regularly play.
Blackjack Classic High by Net Entertainment, Maximum Bet per hand: $500
Blackjack Premier High Stakes Gold by Microgaming, Maximum Bet per hand: $200
Pontoon Pro High by Net Entertainment, Maximum Bet per hand: $500
High limit roulette
Roulette titles have quite high limits online and we have found some titles for you to try that rich people play. The maximum bet does depend on whether you place inside or outside bets. The maximum bet we detail is the maximum available for outside bets.
French Roulette High Limit by Net Entertainment; Maximum Bet: $5000
Premier Roulette Diamond Edition by Microgaming, Maximum Bet: $1000
High limit baccarat
Baccarat is a high rollers favourite and you will find that these titles offer a fair maximum limit.
Baccarat Pro High by Net Entertainment, Maximum Bet: $1000
Baccarat by Microgaming, Maximum Bet: $500
You will find at land-based gambling establishments an entire floor or section will be devoted to high roller table games, including roulette, blackjack, baccarat, craps, and more. The table limits vary from casino to casino, for example at the Crown Casino in Melbourne, Australia, table limits vary between $50,000 and $75,000, while in the US table limits can be as high as $500,000.
High roller slots
While both slots online and offline have incredibly low limits of $0.01 to $1 per spin, they can also have high limits of $100+ per spin.
We have selected a few of our favourite high roller slots online for you to try out if you have a substantial bankroll.
Dazzle Me by Net Entertainment, Maximum Bet per spin: $200
Asian Beauty by Microgaming, Maximum Bet per spin: $300
Spin Party by Play'n Go, Maximum Bet per spin: $100
At land-based venues, you can find slots that offer anywhere from $100 right up to a maximum of $5000 per spin, though we recommend sticking to table games such as the many we mentioned above if you are planning to spend big.
Online or land-based high rollers
As mentioned above, you will be able to find higher stakes at land-based casinos, but online casinos have their perks and if you are spending big a representative will be in contact to offer you a special VIP welcome bonus and other special rewards.