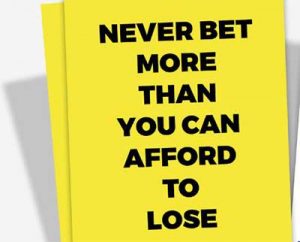 The UK online gambling sector is planning on developing a new industry-wide framework to help operators and associated companies identify problem gamblers.
The announcement comes after the media went into a meltdown over the release of problem gambling statistics.
The research revealed that problem gamblers spend an average of £98 a day, place up to 90 bets per day, and are more likely to gamble in the middle of the night.
But UK charity GambleAware has said that the research, which is in stage two of three stages, reveals online gambling companies can identify problem gamblers, or at risk players, by using the data they already have.
"This means companies could act to help players change the way they gamble or get the help they need in a way that is tailored to their level of risk and type of behaviour," the company said in a press release.
Over 10,000 online players across four UK-based gambling sites allowed GambleAware and PwC to access their data to perform the research.
Researchers identified common signs which indicated a potential problem gambler including the number of times someone bets per day, if the number of bets increases, the time of day someone is gambling and the amounts won and lost.
GambleAware added that demographics such as employment and marital status, as well as age and gender, are also important indicators for companies to determine if someone is at risk.

"Gambling organisations are sitting on a data mine of customer play habits, which if used responsibly and combined with the latest behavioural analytics techniques, can be used to help keep customers safe," PwC partner, David Trunkfield, said.
"The purpose of the research was to explore whether data already held by the industry can be used to identify problem gamblers in 'real time'."
Mr Trunkfield added that a "risk score" can be calculated from the data online gambling companies have and used to intervene.
According to the research, a high-risk gambler is likely to gamble between five to 90 times a day and bet on average £98 per day. Gamblers are more likely to place their bets between midnight and 4.00am throughout the week. The number of deposits and the variation between wins and losses are also taken into account.
Chief executive of the Remote Gambling Association, said although the research was informative, without a solution it's useless.
"It demonstrates that we can spot those most at risk, based on the data we already have available to us and the challenge now is to disseminate best practice and have it implemented," he said.
"However, identifying risky play is pointless if we cannot remedy it and so we're keen to continue with the third stage of the project as soon as possible to evaluate the most effective forms of interaction with customers once their gambling has been assessed as potentially causing harm."
Stage three of the research will involve live testing, with the results released early next year.
"In the next stage of the research project, we'll focus on testing designs and intervention methods for online sites," Gamble Aware's chief executive, Mark Etches, said.
"It's essential the necessary advice and protection are made available to those who need them, wherever and however they choose to gamble".
The online gambling industry is constantly attempting to reduce the social harms which come with iGaming.
Internet casinos, betting sites and associated gambling companies allow gamblers to self-exclude themselves from online gambling sites. Additionally, a new program where gamblers can self-exclude themselves from all regulated gambling sites, known as GAMSTOP, will be rolled out next year.
Leave a Reply
You must be logged in to post a comment.