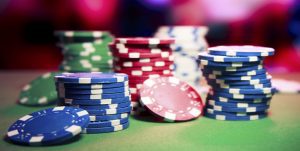 An employee at a casino in Singapore has been sentenced to nine months in jail after a court found him guilty of stealing $34,000.
Tan Hong Khee, a Malaysian national, was working as a casino dealer at Singapore's Marina Bay Sands when he started systematically stealing $1,000 betting chips from the baccarat tables. The thefts occurred over a 20-day period, with Tan removing the chips from the casino between 1st of February and the 20th of February this year.
Tan's tactics were revealed by Deputy Public Prosecutor Vikneswaran Kumara. The thefts occurred whenever a player at the baccarat table lost $1,000, and Tan would subtly pretend to stretch or scratch his neck and deposit the chip down the back of his shirt, which was tightly tucked in to his pants. He would then head to the locker room on his break where he would put the chips with his personal belongings, which left the casino grounds with him at the end of his shift.
After accumulating the chips, Tan brought them back to his residence in Johor Baru, Malaysia using the Tuas Checkpoint. He would then hand them over to an accomplice, identified only as "Alvin" who would cash the chips on his behalf in exchange for a 10% commission. The authorities have still not been able to identify this man and their investigation into his participation continues.
Tan was arrested at the Tuas Checkpoint on 28th February, where he was carrying $10,000 in illegally appropriated cash. He told the court he had used the rest of the money to pay off a loan he had taken from a loan shark to pay off his own gambling debts.
On Tuesday, Tan was sentenced to nine months in jail – a relatively light sentence compared to what he could have faced if he was charged under the Corruption, Drug Trafficking and Other Serious Crimes (Confiscation of Benefits) Act. With time already served, Tan could be out of jail by the end of the year.
The Marina Bay Sands in Singapore is one of Asia's premium gambling destinations. The employment section of its website says, "Marina Bay Sands offers a comfortable and inspiring working environment for its Team Members where they are able to enjoy an array of employment benefits and a wide variety of sporting and social activities."
It is believed Tan had a shining employment record prior to the thefts, which was taken into account during his sentencing.
Leave a Reply
You must be logged in to post a comment.