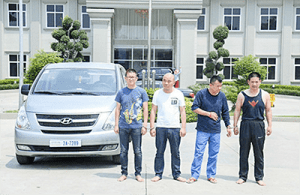 Four Chinese nationals have been arrested in Cambodia for allegedly kidnapping gamblers who owed a local casino money.
A Chinese casino owner and three associates devised a plan to recover unpaid gambling debts by kidnapping three gamblers who owed Poipet casino $1.22 million collectively, according to Cambodia Daily.
The gamblers included 51-year-old Chinese businessman, Zhun Xiao Liang, who owed the casino $770,000; 46-year-old, Liu Junshen, who owed $300,000; and 30-year-old, Zhan Qian Qiang, who owed $150,000.
The three gamblers were detained in an apartment near the casino, and attempted to escape to the Chinese embassy in Cambodia's capital Phnom Penh – 400 kilometres away from where they were being held.
But only Mr Junchen escaped, while the other two were put inside dog cages to prevent further escape attempts.
The alleged kidnappers then turned them over to authorities.

While it isn't clear why they let the remaining hostages go, the Khmer Times reported the men were freed after the police raided the apartment.
It was reported they were acting on a tip from the wives of the kidnapped men. Mr Liang's wife was reportedly sent pictures of her husband via mobile phone messages, along with demands to send the owed money. It wasn't clear if she complied.
The four suspects were detained and sent to Phnom Penh Municipal Court on Sunday where they faced charges of unlawful detention and extortion.
Each charge carries a potential jail sentence of up to 10 years, but it isn't clear if the men have been formally charged.
A statement posted to the military police's Facebook page, revealed the alleged kidnappers as Poipet casino owner Ding Chunyaun, and his associates Zhang Janwen, Hao Boshi, and Zhang Xiaofei.
Police said Mr Chunyuan was the ring leader and that "they are a mafia group that has kidnapped Chinese and other foreigners in Cambodia."
This incident follows a similar case in Cambodia last year, when two Chinese employees of the Leu Phnom Casino stabbed and robbed two other Chinese nationals.
The two employees were gambling at a table, but went broke. As a result they decided to rob the other players who were sleeping in staff quarters of the casino.
The Cambodian government has been revising its gambling laws since 2014, but a bill to regulate the casino industry in the country is expected this year. It will include designating regulatory bodies to combat money laundering and other criminal offences at around 65 casinos in operation in Cambodia.
Leave a Reply
You must be logged in to post a comment.