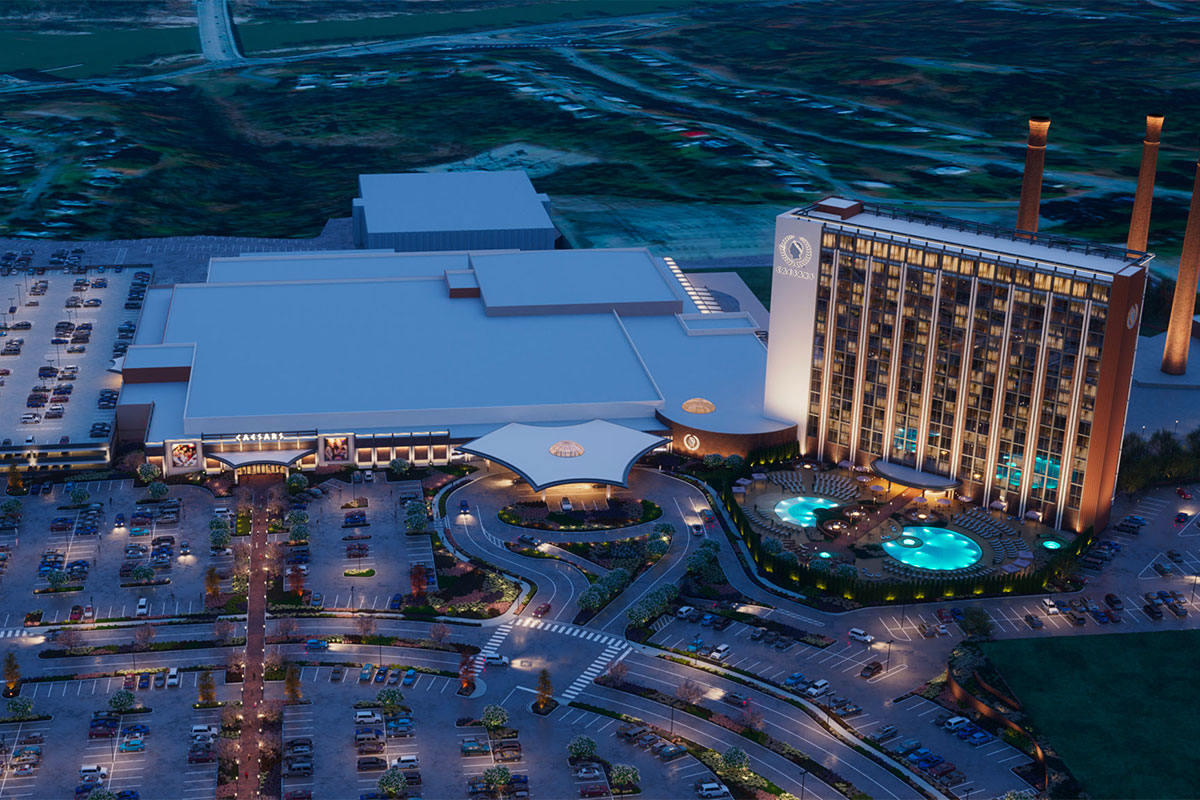 Caesars Entertainment has announced its plans to launch a temporary casino in Danville, Virginia, by July 2023. The former Dan River Schoolfields site is one of the four commercial casinos that are under construction in the state.
The temporary casino will be located directly beside the Caesars Virginia permanent venue, which will be opened in 2024. The company has already begun the groundwork for its makeshift venue to meet up with the 2023 opening.
Danville was among the five cities selected to consider a casino undertaking in Virginia's 2020 gaming bill. During the November election that took place last year, Caesars' report submission was approved by local voters.
The Las Vegas-based company is already demolishing several old manufacturing buildings as well as warehouses on the 85-acre property. Caesars Virginia will reportedly use the 'Three Sisters' smokestacks in its final casino resort. This is a nod to the site's extensive past, as it served as Danville's economic heartbeat for several decades.
Danville city manager Ken Larking explained that a major reason behind Casino Virginia's location was to attract more visitors to the area.
"Having it located somewhat in the heart of Danville, but also on an area that would have been challenging to redevelop, does two things," he said.
"We'll bring some visitors into our community. They'll be able to see different parts of Danville. We're hoping to also encourage them to go to the River District and experience other parts of Danville and the other counties in our area."
Caesars' temporary casino is expected to bring visitors from northern North Carolina as well as the southern part of Virginia. Danville is merely 40 miles away from Greensboro and 50 miles away from Winston-Salem. The town is also 50 miles north of Durham as well as around 60 miles north of Raleigh.
READ: Top US casino sites in 2022
While Caesars Virginia's temporary casino will have sufficient table games, restaurants, and electronic machines, it will have no available hotel rooms. Larking noted the new hospitality establishments in the city that could help accommodate visitors that travel down to Danville.
"We're hoping that the hotels that are here in our community can handle that influx of visitors. Thankfully, we've got some hotels that are either just newly constructed and are just now open over the past few months, plus some that are currently under construction that will be open soon, as well," he said.
Larking further revealed that the temporary casino would create jobs quicker, allowing its staff to glean experience before moving on to the permanent establishment. He said that a knowledgeable core of employees would be essential in training other, newer staff.
"It won't be the full amount that's necessary for the full casino, but they'll be able to get a good group of them together. They'll have them trained. They'll get some experience. By the time the casino opens fully, they'll have at least a good core group of employees who can either help train others or be the backbone of what is needed to be done," Larking continued.
The casino's interim gaming spaces will allow Caesars Virginia to build up its customer base by signing them up to the organization's rewards programs.
The revenue from the temporary casino will be used by the city to boost the community's economic growth. It will also elevate people's ability to create and build on their own wealth.
"We want to be very intentional that the revenue generated from the casino will be used to increase people's ability to build their own wealth, to provide new opportunities that increase economic development, and to lower our poverty and unemployment rate," Larking said.
He added that the temporary casino would be torn down after Caesars Virginia's permanent venue is built, and the space will be repurposed.
Caesars Virginia revealed earlier this month that it intended to follow the lead of Hard Rock Bristol and open up a temporary gaming venue. The casino would be in operation while the full-scale construction of the permanent resort carries on.
Virginia's 2020 gaming bill allows casinos under construction and licensed by the Virginia Lottery Board to operate temporary gaming venues while construction is ongoing. This is only applicable if the temporary site is the same as where the permanent resort will be built.
Caesars Virginia will cost the Las Vegas gaming company $650 million and have a casino floor laden with a Caesars Sportsbook, a World Series of Poker Room, 24 electronic table games, 85 table games, and 1,300 slot machines.
The resort will also have a 300-room hotel, 40,000 square feet of convention space, and a 2,500-seat theater. Caesars Virginia casino is targeting a grand opening for its permanent location sometime in 2024.
Leave a Reply
You must be logged in to post a comment.