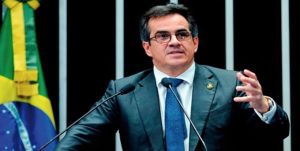 Brazil could be the next country to block payments made to offshore gambling sites as the government considers ways to prevent nationals from playing at online casinos based outside of the country.
The move comes as Brazil takes its first steps to legalise online gambling. Like many other countries, online gambling is illegal in Brazil, but the grey-area market means there's nothing in the laws to prevent players from placing bets at offshore casino sites. With Brazilians estimated to be spending over $950 million each year at foreign gambling sites, it's no wonder the government is looking at ways to keep the money on Brazilian soil.
The Brazilian government has unsuccessfully tried to regulate the online gambling market in the past. In 2008, an attempt to implement laws similar to the USA's Unlawful Internet Gambling Enforcement Act (UIGEA) was dismissed by congress, followed by another unsuccessful attempt the following year to get all internet service providers to block access to foreign gambling sites.
In 2010, an attempt was made for financial institutions to block payments to offshore casinos, but to no avail.
Things are getting more serious now as Brazil seeks to regulate the industry and introduce new laws that would allow the country to issue online gambling licenses to qualified operators for the first time.
Brazilian Senator Ciro Nogueira recently introduced a bill that aims to close the existing loophole in Brazil's gambling legislation that makes it possible for Brazilians to play for real money at international casinos and betting sites. He said he has been looking to jurisdictions like the USA, France and Australia for ways to ensure Brazil's gambling money goes back into the local economy.
As part of Senator Nogueira's proposal, Brazil's Central Bank will be required to implement rules and processes to block any payments made via credit card, debit card or bank wires to offshore gambling sites.
The bill, titled PLS 213/2017, specifically states:
"The Central Bank of Brazil, respecting the guidelines Established by the National Monetary Council, shall determine rules for the implementation of control mechanisms aimed at preventing financial institutions issuers of credit cards or debit card, as well as any other payment institution, from authorizing operations with credit or debit card or electronic currency involving the participation in online games of chance hosted by offshore websites."
The potential regulation of the online gambling industry in Brazil has been receiving media attention since late last year, with responsible gambling practices being touted as one of the main advantages of creating a regulated market.
According to research, if online gambling is legalised, Brazil has the potential to become one of the world's largest regulated jurisdictions, with The Brazilian Legal Gaming Institute reporting Brazilian's spend close to $6.4 billion on illegal gambling services every year.
Leave a Reply
You must be logged in to post a comment.