At OnlineCasinoWebsites.com, we are all about the comfort and convenience online casinos offer, but it does not mean we don't enjoy a night out at a traditional land based casino every now and then. For those occasions where you want to get dressed up, grab a cocktail and be part of the bright lights and action, we've provided a guide to the best land based casinos around the United States.
History of the American casino industry
The United States has one of the most thriving land based casino industries in the world, and is where the integrated casino resort concept began. It all started around the Prohibition Era, where illegal alcohol sales provided mob figures with an additional revenue stream which led to the all kinds of underground activity like illegal gambling. Tourists were attracted to gambling hot spots like Miami, Galveston and Hot Springs, where the casino industry flourished for many years. Saloons around
After the Great Depression and the stock market crash of 1929, gambling was legalised in Nevada to provide a revenue source for the state, which in turn doomed the casino industry for once thriving towns like Hot Springs. While interest in Nevada was slow at first, the strict gambling laws enforced elsewhere around World War II led many investors (who were mostly involved in criminal activity) to Las Vegas, and by the 1950's, this city had become the gambling centre of the USA. By the 1960's the crime figures were pushed out by legitimate investors who purchased the major hotels and casinos, paving the way for Las Vegas to be the world-famous gambling and resort city it is today. Las Vegas houses some of the first ever land based casinos of their size and stature.
Inspired by the success enjoyed by Nevada, many other US states started to legalise casinos. In 1976, the state of New Jersey allowed casinos to operate in Atlantic City, which fast became America's second biggest casino hot spot. Native American tribes like the Seminole tribe began opening casinos on Indian reservations, gambling was legalised in Detroit and riverboat casinos were authorised around Louisiana and Illinois.
When online gambling started to explode around the new millennium, the US government was quick to put laws in place to make this illegal. Online gambling was prohibited under the Unlawful Internet Gambling Enforcement Act of 2006, leaving many successful online casino operators no choice but to exit the market. Today, the USA still has some of the strictest laws surrounding online gambling, which is why American punters often have no choice but to play in real life at land based casinos. Read more about USA's online gambling laws here.
Land based casinos in Las Vegas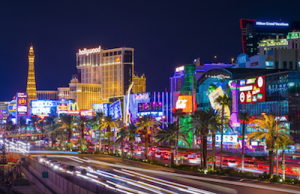 If you're visiting Nevada, you never have to travel far to find your nearest casino. Slot machines can be found everywhere across the state, not just within the confines of a casino but even in gas stations, restaurants and bars. Drive from California to Nevada and you'll start seeing casinos pop up along the highway, leading like a trail all the way to the famous bright lights of the Las Vegas Strip.
While Downtown Vegas provides a happening bar, club and gambling scene, retaining lots of the charm and grit of old Vegas, The Strip is where the action really happens. The Strip refers to the area stretching over four miles between Las Vegas Boulevard, Sahara Avenue and Russel Road. It is packed with many of the biggest casinos, hotels and resorts in the world, embodying the "bigger is better" American mentality. New developments are always in the works, and tourist attractions, restaurants and luxury shops abound. Integrated resorts provide casinos, accommodation, dining, bars, shopping, entertainment, swimming pools and attractions under the one roof, with gaming rooms operating 24/7.
There are literally hundreds of casinos in Las Vegas, with some of the most famous including:
The Venetian
Mandalay Bay
Caesars Palace
Excalibur
MGM Grand
Treasure Island
The Mirage
Paris Las Vegas
The Bellagio
Hard Rock Hotel
Aria Resort & Casino
The Cosmopolitan
Bally's
New York New York
The Flamingo
For a glimpse into the Las Vegas lifestyle through beginners eyes, one of our writers has provided an entertaining and helpful account of their first Las Vegas experience to give you an idea of what to expect.
Land based casinos in Atlantic City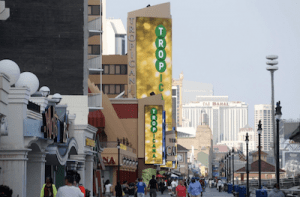 Atlantic City in New Jersey is considered the gambling hub of the East Coast, but in recent years it has hit a bit of slump, with several of the major casinos closing down as the area struggles amidst competition from neighbouring states. The state government has been helping Atlantic City to avoid bankruptcy by selling inactive casinos to international developers and reviving old casinos into new hotels and attractions, with one casino scheduled to turn into a water park.
Despite the recent struggles, Atlantic City is still a popular destination for tourists to walk the famous boardwalk, sample salt water taffy, enjoy the beaches and gamble a few dollars at one of the lively casinos. With a rich history glamourising the prohibition era of the 1920s and subsequent night club era of the 1930-60s, visitors to Atlantic City can't help but be enchanted by the nostalgia of this unique resort town.
The major Atlantic City casinos in operation today include:
Borgata
Harrah's
Tropicana
Caesars
Golden Nugget
Bally's
Resorts
Famous Atlantic City casinos which have ceased operation due to various reasons including financial and licensing issues include Trump Taj Mahal, Trump Plaza, Trump's Castle, Atlantic Club, Revel, Sands, Trump World's Fair and Playboy/Atlantis Casino.
Land based casinos in Reno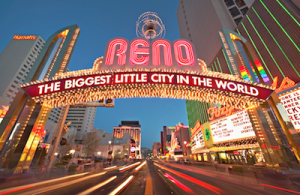 Reno is a city in northern Nevada which is famously dubbed the "Biggest Little City in the World." Situated 22 miles from Lake Tahoe, Reno is the second major gambling hub in the state, providing a smaller scale casino and resort town to its bigger sister, Las Vegas. Once attracting visitors from all over the country due to its lax divorce laws, Reno now attracts visitors thanks to its many casinos, restaurants and proximity to ski resorts.
Reno's major casinos include:
Peppermill Casino
Silver Legacy Resort & Casino
Atlantis Casino
Grand Sierra Resort Casino
Harrah's Reno Casino
Eldorado Casino
Diamonds Casino
The Sands Casino
Bonanza Casino
Baldini's Sports Casino
Circus Circus Reno
Land based casinos in New York
New York City is not exactly well known for its casinos, but as the second biggest city in the world, it is to be expected you will find a selection of casinos around the Big Apple. Most of the casinos in New York are located outside of the city, and you won't find any around Manhattan, Brooklyn or any of the other major tourist attractions. The closest two, near JFK Airport and Yonkers Raceway, don't have great reputations, so you are best to venture away from the big smoke for an enjoyable gaming experience. With Atlantic City only a couple of hours away, many choose to make the journey interstate to embrace the higher-end casinos.
New York City has restrictive gambling laws, so many of its closest casinos are run entirely by electronic games, with no dealer controlled games. Many of New York's casinos are what's known as a "racino" which is a blend of race track and casino. While most racinos are limited to slot machines, many are starting to include table games like blackjack, roulette and poker.
Some of the casinos you will find around NYC and around New York State include:
Resorts World Casino New York
Empire City Casino at Yonkers Raceway
Del Lago Resort & Casino
Rivers Casino and Resort
Batavia Downs Gaming & Hotel
The Fairgrounds Gaming
Land based casinos on Native American reservations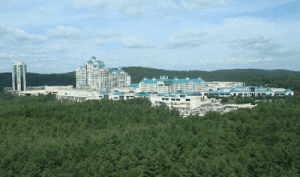 Something quite unite to the USA is the prevalence of casinos on Indian reservations and tribal land. Native Americans started operating casinos on tribal land in the 1970s after it was ruled in the Supreme Court the state government does not have control over the activities occurring on reservations, nor the ability to tax occupants. Many lawsuits ensured over the years as Native Americans chose to take advantage of their sovereign rights and operate casinos and bingo halls on tribal land, before the Indian Gaming Regulatory Act (IGRA) was passed by Congress in 1988.
While the casinos and gambling activity on Native American reservations are now regulated, Indian reservation gambling now generates more revenue than Las Vegas and Atlantic City combined. There are over 425 gambling facilities on reserves, run by 233 tribes across 28 US states. The biggest and most popular casinos on tribal land include:
Foxwoods Resort and Casino, Connecticut
Mohegan Sun, Connecticut
Cherokee Casino, North Carolina
Prairie Band Casino, Kansas
Ak-Chin Casino, Arizona
Jackson Rancheria Casino & Hotel, California
Chumash Casino Resort, California
Jackpot Junction Casino Hotel, Minneapolis
Island Resort & Casino, Michigan
Other casino hot spots in the USA
While the cities discussed above provide the largest casino markets in America, other USA cities with thriving land based casino industries include:
Chicago, Illinois
Detroit, Michigan
Baltimore, Maryland
Philadelphia, Pennsylvania
Mississippi Gulf Coast, Mississipi
St Louis, Missouri
The Poconos, Pennsylvania
Lake Charles, Louisiana
Boulder Strip, Colorado
Kansas City, Missouri
Shreveport, Louisiana
Why play at an online casino instead?
Playing casino games online can be a great way to sharpen your skills, test strategies and familiarise the different rules on card and table games like roulette, blackjack, baccarat and poker before heading out to place wagers at a land based casino. US players also have the option of sampling online casino games for free in practice mode, with no real money required to exchange hands, which can be a good way to learn new casino games before hitting the gaming floors at any of the land based casinos across the country. Online casinos also offer better odds, more lenient betting limits, and bigger bonus offers and promos than you will find in a land based casino.
Trusted USA online casino websites
The online gambling laws in the USA are very strict, restricting access to many online casinos, but there are some trustworthy offshore casinos out there accepting players from America. Our website has been geo-targeted to recognise your location and only recommend reputable online casinos which accept players from your country, so feel free to visit any of these casino sites and sign up for an account to play for real money. USA players may want to consider using a trusted VPN (virtual private network) for an extra layer of security and to get around any region-blocks when playing online.