Not for the faint hearted, MegaSpin slots are reserved for the true adrenaline junkies, those who are always seeking the biggest thrills of all. If you're the kind of player who likes to go hard or go home, this action-packed slot format could be exactly what you're looking for. Read on to find out more about MegaSpin video slots and where you can play these exhilarating games for real money at the best casinos on the Web.

Casinos with Megaspin pokies
What are MegaSpin slot games?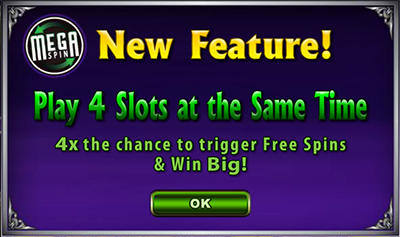 MegaSpin slots allow you to play multiple slot games at once, without having to open multiple tabs on your Web browser. It's a similar format to playing a multi-hand game of blackjack, only instead of the game screen being separated into different hands of cards, it's separated into different blocks of slot games. With multiple reels spinning at the same time, MegaSpin games open up the potential for you to claim multiple winnings at once.
The major thing to be aware of when playing a MegaSpin game is that an individual wager is required for each and every game you're playing, so while this can provide some large winning potential, it's also a sure way to burn through your bankroll at a rapid pace.
Where to play MegaSpin slots online
Microgaming is the predominant software developer of MegaSpin slot games, with other game studios shying away from this brazen slot format. You'll find Microgaming MegaSpin slots available for desktop play at some of our top-rated online casinos including:
If you're new to any of these sites, sign up for an account using our links above to get access to some exclusive offers like matched deposit bonuses and free spins.
What MegaSpin slots are available?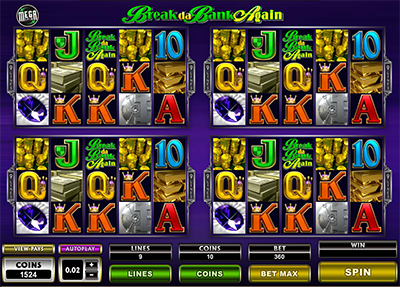 There used to be several MegaSpin slot games to choose from online, but Microgaming seems to have removed all of them but one from its repertoire. The only MegaSpin slot game that's still widely available is Break Da Bank Again, an older nine pay-line slot game based around a bank heist, with symbols made up of gold bars, safes, gold coins and wads of cash. Break Da Bank Again allows for four games at once, and if playing all paylines across all four games, the minimum bet is just $0.36 per spin.
How to play MegaSpin slots for real money
If you're not sure if MegaSpin slot games will be your cup of tea, you can give games a go at our recommended casinos for free in practice mode first. If you like the multi-play format and would like to throw yourself right into it, playing for real money is easy:
Sign up for an account at one of the reputable online casino recommended on our site, using our links to claim exclusive new player welcome bonuses.
Make an instant deposit in your local currency using a trusted payment method like Visa, MasterCard, Neteller, PayPal, ecoPayz, Entropay and more.
Load a MegaSpin game like Break da Bank Again directly over your Web browser for instant-play, or you can opt to download premium casino software from sites like Royal Vegas and 32Red.
Use the buttons at the bottom of the screen to select the size of your wager. Unfortunately, you can't customise bets for each game, so the amount of your bet will be applied to each active game.
Hit the play button and all games will come to life, with any winnings automatically credited to your account.
Each active game plays by the same rules and payout schemes, so all you need to do is select how many lines, the number of coins and the coin value you want to play per spin in each game.
Are MegaSpin slots worth it?
While MegaSpin slots are certainly thrilling, these games can be very risky and don't support responsible gambling practices, which we assume is why most software developers haven't bothered with them. MegaSpin games are risky because you're essentially betting four (or more – depending on the game) times more than you usually would in the same amount of time.
While the tempting part is that you can win four times more than you would in a standard sitting, the flip side is you can also lose four times more. It can be difficult to gauge where your bankroll is at when one game is telling you you're a winner while the other three are draining your funds, and this is where players lose sight of their cash flow and things can get out of hand.
When played at the minimum bet, Break Da Bank Again MegaSpin is pretty affordable, but be careful if you start playing for larger bets.
The other downside of MegaSpin slots is that the games are nowhere near as attractive or engaging as other video slots. Break da Bank Again is one of Microgaming's older titles, offering an outdated design with bland symbols and no major bonus features to speak of beyond free spins. If you're looking for a modern slot game with 3D animation and unique bonus features, MegaSpin slots certainly aren't for you.
However, the experience of playing multiple games at once is exciting and if you can set yourself limits and bet within your means, MegaSpin slots are worth trying just for the hell of it, but you wouldn't want to make it a habit.
Play MegaSpin slots at 32Red Casino where new players can get $10 for free just for signing up, followed by a $32 matched deposit bonus every time you make a real money deposit of $20 or more.