Playing for real money at an online casino site is totally safe, provided the casino is licensed by a reputable gambling jurisdiction and protected by a minimum of 128-Bit SSL digital encryption. We explain what SSL security is, how it keeps you safe when playing online, and how to identify whether a casino is protected by SSL security before you hand over your personal information.

Secure online casinos with SSL security
What is SSL security?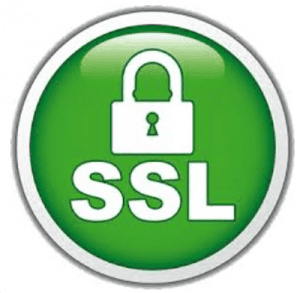 SSL (which stands for Secure Socket Layer) is the name of the standard digital technology that is used to keep sensitive information safe when people use the Internet. Essentially, a site that is protected by SSL digital encryption scrambles all information entered by a user, so that the information can't be intercepted by prying eyes or hackers. This is the leading form of online technology that allows personal details, financial information, credit card numbers and passwords to be transmitted securely over the Internet without falling into the wrong hands. It is the same level of digital protection used by Internet banking providers and leading financial institutions, and secures millions of online transactions around the world every day.
Why play at SSL certified casino sites
SSL is the essential security protocol for all online casinos to ensure customer safety. Players should only ever play at casino sites that are protected by a minimum level of 128-Bit SSL security encryption, and avoid unprotected sites at all costs. No SSL protection = no play, it's as simple as that.
When a casino vendor uses SSL security, it means any data sent between your computer and their Web server won't be sent in plain text, so the information you enter can't be picked up by an unauthorised third party. Any time you enter your login credentials, credit card details or other payment information, your information will become scrambled so it can't be deciphered by anyone who intercepts it. SSL security provides the peace of mind to allow you to make real money deposits and withdrawals to an online casino without the risk of your financial information or personal details falling into the wrong hands.
How to tell if a casino site is SSL protected
Any casino site that's protected by Secure Socket Layer technology will proudly display this information, so it is easy to identify the safe sites from the unsecured venues. Information about the casino's SSL certificate can typically be found within its FAQ, security or privacy section, but there is an easier way to tell if a casino site is SSL protected.
When you visit a website, simply look at the URL address bar at the top of the page. SSL-secured websites contain an additional 's' in their Web address, so the URL will begin with https:// instead of the usual http://. To make it even easier to identify SSL-secured sites, the URL bar will include a small image of a padlock, and some SSL protected sites will even be highlighted in green to signify protection.
SSL protection is imperative for any site that request you to enter personal information. While it is not imperative that the homepage of a casino site be SSL-certified, it is essential that the sign-up page and cashier section is protected.
Best online casinos with SSL protection
If you want to take the guess work out of identifying an SSL-protected casino site, stick with the best casinos recommended here at OnlineCasinoWebsites.com. Our endorsed casinos are all protected by either 128-Bit or 256-Bit Secure Socket Layer digital encryption to ensure player safety at all times. These casinos are all licensed by leading offshore gambling jurisdictions and offer a wide variety of online games from the best software developers, with games available for free play in practice mode and for real money bets.
For a full list of the SSL certified casino sites that accept players from your country, refer to the casino table at the top of this page. This list has been geo-targeted to recognise the area you're playing from and only recommend SSL protected Web casinos that cater to your region. If you want to know more about the online gambling laws that apply in your country, you can read our detailed country guides for further information.
VPNs for extra security when gambling online
Although a minimum of 128-Bit SSL digital encryption is all you need for peace of mind when playing for real money online, there are added steps players can take to enjoy the benefits of an extra layer of security. The use of VPNs (virtual private networks) is becoming increasingly popular with online gamblers, not only to get added protection but also to get around region-blocks to access a larger selection of online casinos. VPNs essentially hide your online activity from your ISP (internet service provider) and allow you to access websites that are blocked due to your geographical location. They are especially handy when playing over a shared or public Wi-Fi connection to provide further protection from hackers.
When playing for real money online, it is vital you stick with online casinos that are protected by a minimum of 128-bit SSL digital encryption security. For a list of the best, SSL-secured casino sites accepting players from your country, refer to the casino tables on our website which have been tailored to recognise your location and only recommend safe casinos that service your area.