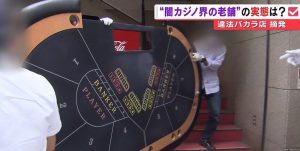 Police in Japan have busted what they believe to be one of Japan's biggest and longest running underground gambling networks.
The bust, which has been labelled as "historic" was made by the Osaka Prefectural Police at 11:40AM on Monday when 170 officers entered an illegal casino in Osaka's Minami entertainment district.
During the raid, police seized ¥9 million in cash and five illegal baccarat tables. They uncovered a further ¥200 million while searching the properties of those suspected of being associated with the casino.
Over 50 individuals came under scrutiny as a result of the raids, making it the largest gambling bust in over a decade. 41-year-old casino manager Masaaki Miyatake was arrested, along with nine other casino employees and 14 customers who were in the illegal gambling den at the time. Police also questioned an additional 26 customers and staff.
Miyatake is not denying his involvement with the casino, admitting to police that he received a commission on the gambling activity conducted in the den.
The casino was located on the fourth floor of a building in the Shinsaibashi area. Police say there were elaborate security measures in place to prevent the operation being discovered, including 40 internal and external security cameras and double doors guarding the entrance. There was no elevator to the fourth floor and the casino was only accessible via private escort after customers would alert staff of their arrival.
The Minami area is one of Osaka's major entertainment hubs, offering an abundance of bars, restaurants and shopping options. A resident of the area told a Japanese news source that locals in the neighbourhood were well aware that illicit gambling was happening at the venue.
Osaka is currently being considered as one of several towns hoping to host one of Japan's first ever integrated casino resorts, after a new bill was passed late 2016 to allow casino gambling in the country for the first time. It is not known whether the Minami underground casino bust will have any impact on Osaka's campaign to be a casino host.
The Integrated Resort Implementation Bill is currently making its way through Japanese parliament as industry regulations are debated and finalised. The Diet is considering making the casinos off-limits to Japanese nationals, limiting the number of visits allowed to the casinos per person, and imposing strong restrictions for anyone identified by themselves or a family member as having a problem with gambling.
The first integrated resort is scheduled to open its doors in 2020 in a bid to boost Japan's tourism market after the Tokyo Summer Olympics.
Leave a Reply
You must be logged in to post a comment.