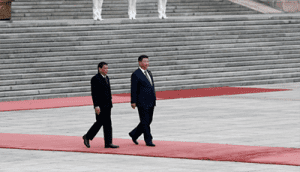 China has expanded its anti-gambling agenda by enlisting the Philippines in a coordinated crackdown.
China has been instigating anti-gambling measures for quite some time – including the raids and arrests of Crown employees last year – to control illicit capital outflows.
Meanwhile, the Philippines wants to eliminate illegal operators from its booming gambling industry.
The countries have teamed up as Chinese President Xi Jinping phoned Philippine's President Rodrigo Duterte – reportedly at the request of America's Prime Minister, Donald Trump.
The coordinated crackdown has already commenced, with Philippine and Chinese authorities infiltrating a transnational cyber gambling operation last month. Four illegal gambling sites based in the Philippines were shut down, and 99 people were arrested, with many being Chinese nationals.
Chief of the Philippines National Bureau of Investigation's cyber-crime division, Martini Cruz, revealed to Reuters authorities were in the midst of preparations for more raids over the next few weeks. These will target Chinese gamblers who are engaged in illegal betting and Internet fraud organisations in the Philippines.
"We have been visited by Chinese police to crack down on these illegal gambling operators," Mr Cruz said.
They are also targeting possible fugitives who have made our country a sanctuary."
Proxy betting has not been included in the crackdown just yet.
The controversial activity sees gamblers located outside casinos betting on games inside the venue via an agent using a live stream or other internet platforms. Due to its anonymous nature, players can gamble on the table games despite living in a country which may ban gambling.
The activity is illegal in China, but it is considered to be a grey area in the Philippines.
Head of the Philippines gaming regulator, PAGCOR, Andrea Domingo told Reuters she knew what proxy betting was but was not an expert on the matter.
"It is allowed in the casinos. I am not very conversant about it," she said.
It is said to have contributed to a boom in the Philippines gambling industry, with casinos accruing nearly $US3 billion in overall revenue last year.

Industry experts have said the coordinated clamp down on gambling activities could ultimately impact the proxy gambling business in the Philippines and in turn hurt overall revenue for 2017 and onwards.
In mainland China, gambling is illegal online and at home. In Macau – considered to be the biggest gambling destination in the world – proxy gambling is illegal.
China's Public Security Bureau has released several statements regarding the impact cyber gambling has on a country's stability, image and economic security.
Whether or not the controversial betting system will eventually be included in the gambling crackdown is not yet known since it is mainly run by Macau junket operators. They bring high rollers from China, Macau and Hong Kong to the VIP sections of the Philippines casinos, via proxies and sometimes in person. The junket operators also take the risk and settle money with the players using their internal banking networks.
According to Suncity Manilla, 80 percent of business comes from proxy gaming, while 20 percent is accrued from players who travel to casinos for table games.
Managing partner of IGAMIX Management and Consulting in Macau, Ben Lee, said China's operations and raids are clear warning signs.
"China warning specifically that they would crack down again on foreign casinos should be heeded by all, especially those operating in the online space," he said.
Leave a Reply
You must be logged in to post a comment.