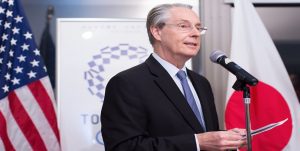 Global casino giant MGM Resorts is solidifying itself as a strong contender for one of Japan's first ever casino licenses, appointing a former US diplomat to lead its Japanese operations.
In a statement released on Tuesday, MGM Resorts announced it has appointed Jason Hyland as the representative officer and president of MGM Resorts Japan LLC. Hyland is the former Deputy Chief of Mission for the United States embassy in Tokyo and recently served as the acting United States Ambassador to Japan.
According to MGM chairman and chief executive James Murren, Hyland is the perfect candidate to represent MGM in Japan. Murren said in the press release, "Jason's substantial experience as senior diplomat, his deep understanding of the Japanese culture, as well as his proven leadership and negotiation skills, extensive network and strong command of the Japanese language will be a tremendous asset as we promote activities in Japan."
A bill was passed in Japanese parliament late last year to legalise the operation of casinos in the country for the first time. Authorities have been working on establishing the terms and conditions of the Integrated Resorts (IR) Bill since, with a government panel touring the country this month to address community concerns and explain more about how the introduction of integrated resorts can boost Japan's economy.
Since the new casino laws were passed, several major international casino operators have been showing their interest in the Japanese market, with MGM amongst the hopeful candidates.
The statement released by MGM confirmed the company has been providing the government and private entities with information about integrated resorts and will continue to build relationships and gain information about Japan's domestic market.
"In addition, MGM [Resorts] will allocate development specialists from the U.S. to Japan as it increases its total development staffing in the U.S. and Japan combined to more than a dozen, reinforcing MGM Resorts Japan's organisational structure as it works to realise a Japanese resort," the casino operator said in Tuesday's statement.
MGM will also be moving its Tokyo offices from Akasaka to Otemachi, with a new office scheduled to open in Osaka in the future.
If Japan's casino industry goes ahead, analysts have predicted the operation of two integrated resorts could generate as much as $7 billion per year. MGM is just one of the casinos hoping to get in on the action, with interest also shown from Las Vegas Sands, Hard Rock Café and Genting Singapore.
Leave a Reply
You must be logged in to post a comment.